Flower sales up for romantic day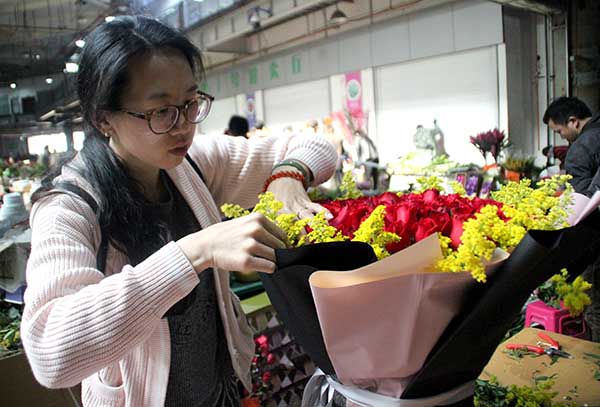 A customer selects flowers at Kunming Dounan Flower Market in Yunnan province on Monday.Shi Wenzhi / China Daily
With couples set to enjoy Valentine's Day, flower traders in China are also welcoming the boost that the annual celebration of romance is providing for their sales.
Yunnan province's Kunming Dounan Flower Market, the country's largest flower market, said its daily trade volume of fresh flowers has remained at about 6 million in the past five days, meaning nearly 70 flowers are being sold every second.
Zhang Li, general manager of Dounan Flower Market, said that a record high of 6.41 million flowers were sold on Thursday.
"The price of flowers is also increasing, even for filler flowers. The single price for most common roses is about 7 to 8 yuan ($1-$1.16), while the price for baby's breath is about 170 yuan per kilogram," Zhang said.
Zhang Xi, deputy general manager of an online flower shop based in Beijing, said this year's flower sales for Valentine's Day are expected to increase at least tenfold when compared with last year.
Data from Alibaba.com show that the viewing of flowers on its e-commerce platform had increased substantially. The biggest buyers are from Beijing, Shanghai and Guangdong province, aged between 26 and 30 years old.
Zhang Li said this year's sales boost was driven by growing demand from markets in both China and other Southeast Asian countries.
"Flowers from Dounan have been sold to buyers in Hong Kong, Singapore and Thailand, among other countries," he said.
"In addition, this year's Spring Festival fell early, at the end of January, creating two separate purchasing periods - the traditional Chinese festival and Valentine's Day - which helped boost sales."
The peak seasons for flower sales are generally related to festivals, but with the rapid development of the flower market, the boundaries between peak and off seasons have been blurred, according to industry insiders.
Reflower.com.cn, an e-commerce platform for fresh flowers, released a report recently, saying flower consumption is no longer restricted to festivals, and that increasing numbers of consumers are now buying flowers on a weekly basis for decoration at home or in the office. Weekday sales now account for 12.7 percent of its monthly sales, it added.