Public security bureau backs app for citizens to report suspicious behavior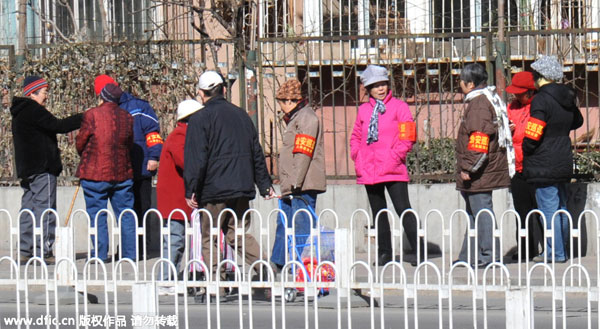 Community patrols talks with each other on a street in Beijing, March 8, 2011. [Photo/IC]
Anyone will be able to report illegal activity directly via a new mobile app which has the backing of the district public security bureau.
The app "Chaoyang qunzhong" targets the Beijing district Chaoyang. The name literally means "the public in Chaoyang district" and relates to a group of vigilant community members that report suspicious behavior and help police solve crimes. They've become a hot issue on Chinese social media for often getting a mention in police announcements about breaking open a case after receiving an important tip-off.
"Chaoyang qunzhong" has jokingly been referred to online as the fifth biggest intelligence in the world.
The app, which was developed by the Chaoyang public security sub-bureau, was launched in August last year and has been upgraded four times.
At present, it is still officially being tested online. Users can register for free after downloading the app and easily upload clues for cases including child abduction, alleged suspects, traffic accidents, missing people and other kinds of crimes via words and pictures.
The authority said developing this app was to expand the number of "Chaoyang qunzhong", to protect society order and public security.
The website suggests that: "One's character and wisdom will be further improved when taking responsibility becomes a habit and way of life."