Doctor designs app to help patients convey feelings, requests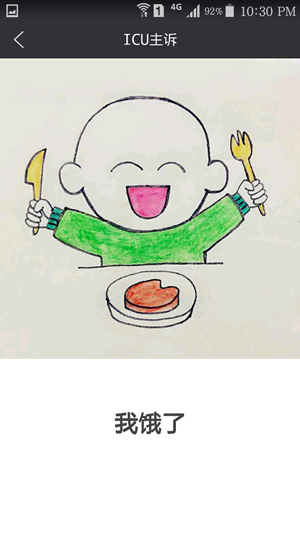 A picture expressing "I'm hungry" on the "ICU Chief Complaint" app. [Screenshot from Thepaper.cn]
Sheng Jinghui, a 27-year-old doctor at the Second Affiliated Hospital of Zhejiang University School of Medicine, has designed a special app to help ICU patients express their feelings and needs, Thepaper.cn reported on Monday.
The app, named "ICU Chief Complaint," contains 28 pictures that convey ideas such as"I'm hungry," "I'm thirsty," "I'm cold" and more.
Many patients in the ICU are unable to speak or write due to tracheal intubations or other serious conditions. Medical workers, lacking a reliable and universal form of communication with such patients, are often forced to guess at their needs. This method is not only time-consuming, it can also sometimes lead to a rise in patients' blood pressures and heart rates.
An 80-year-old patient surnamed Lin was left severely injured after a car accident last December. The accident rendered him paraplegic, and his trachea was cut open due to a pulmonary infection. Hungry but incapable of speaking, Lin was asked by Sheng where he felt uncomfortable, whether he wanted water, whether he wanted to sit up and many more questions. In the end, Lin's son had to wrap his father's fingers around a pen so that Lin could tremblingly write the English word "meal."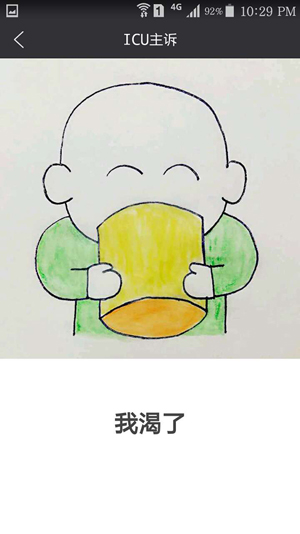 A picture expressing "I'm thirsty" on the "ICU Chief Complaint" app. [Screenshot from Thepaper.cn]
"Most patients in the ICU are not able to write. I wanted to find a handy way to communicate," explained Sheng. As a result, the doctor searched online and found a website to design apps in early January. After four nights of work, Sheng's earliest version of "ICU Chief Complaint" was done. The app consisted of two modules to help patients express their feelings and needs through different pictures.
At present, Sheng is replacing the first images she downloaded with original drawings and words to make it easier for patients to use the app. Next, she will add two more modules relating to diseases and body parts to help patients discuss symptoms they are experiencing in different areas of the body. Meanwhile, Sheng is considering how to make the app accept voice commands and recognize eyeballs positioning.
"The app is still in test mode. It will be available in the application market once it is completed," Sheng promised.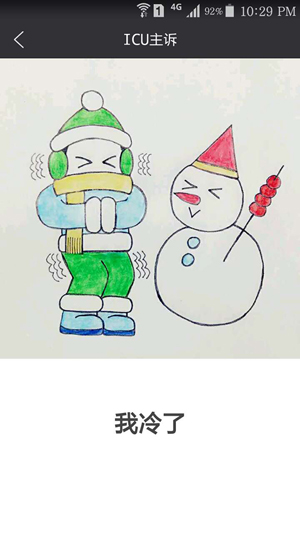 A picture expressing "I'm cold" on the "ICU Chief Complaint" app. [Screenshot from Thepaper.cn]