'Dealing with trifling matters'
Former PLA officer excels in her new role as a community policewoman
After 18 years in the People's Liberation Army, former lieutenant colonel Yang Yan's change of career might seem strange to some.
The computer science major joined the PLA after graduating from the China University of Geosciences in 1992, going on to help develop the country's ground-to-air missile system at the Jiuquan Satellite Launch Center in Gansu province.
In 2010, Yang was transferred to the public security bureau in Wuhan, Hubei province, where she was primed for a top job with the city's 110 police hotline control center.
But instead, a year later, she requested a transfer to become a community police officer.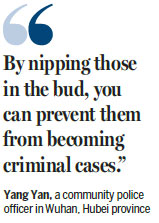 "I lacked grassroots experience and I thought I was not qualified to command the police force yet, so I decided to work in the community," she said.
"Even my son didn't understand - he thought I'd been demoted for doing something wrong at work."
In making the switch, Yang became the first female police officer to serve the Wuhan Economic Development Zone's Jianhua community from her base at Dunkou police station.
She has since been praised for acting as a kind of "agony aunt", thanks to her work engaging with the community.
Jianhua, which covers an area of 4 square kilometers, is located in the rural-urban transition zone and has a large migrant population.
In an effort to get to know the place better, when she arrived, Yang conducted a door-to-door household survey that took her nine months to complete.
During that time she visited all the community's 2,370 households and collected more than 3,000 telephone numbers, which she used to set up four groups on popular messaging platform QQ.
Using the knowledge gained from her visits, Yang identified areas for improvement and began to work on each systematically. The result was a 75 percent year-on-year decline in the number of crimes committed in 2013, she said.
She posted notices outlining the police's service commitments and contact information at the entrances to all buildings in the community and distributed business cards featuring her picture, police number and personal contact details.
Huang Heqing, a resident in the community said: "In the past, we would call our friends for help instead of the police because we were afraid of causing trouble. But now, everything has changed, people prefer to consult her (Yang) for everything."
Yang also applied the scientific methods she had honed in her past career to her police work. She methodically recorded the details of all the cases she dealt with in a notebook, explaining to the community's residents the importance of having a written record.
"Much of what I have done is dealing with trifling matters, really. But by nipping those in the bud, you can prevent them from becoming criminal cases," she said.
Li Wei, a 31-year-old from Honghu in Hubei province, runs a beef noodle shop in the community. Every day, he has a consignment of noodles delivered to the front door of his shop, but several times he found that they had been stolen by a passer-by.
"I was burning with anger and would fantasize about what I would do if I caught the thief," he said.
"It's true that the noodles were not expensive, but it took me an hour's drive to buy some more."
It did not take Yang long to identify the noodle thief, by staking out the front of Li's shop. She asked the man to return the noodles and made him write a note of apology to Li to settle the case.
"I didn't ask the person to give a face-to-face apology in case a fight broke out," she said.
"The noodles were not expensive and the person who took them may have just been playing a trick. In tackling this kind of case, I think of how to balance the scales of justice and prevent further conflict."
Yang makes full use of the technology at her disposal to keep in touch with the community's residents.
After last year's Spring Festival, a 16-year-old girl ran away from home and couldn't be found for two days and nights. Yang went around the area's schools, asking teachers, students and parents for more information, while also keeping in contact with them through QQ groups and WeChat, before finally managing to locate the girl and sending her home.
The one major downside of being a police officer is the blurring of the distinction between work and social life, Yang said.
"My husband is also a policeman, he understands me," she said.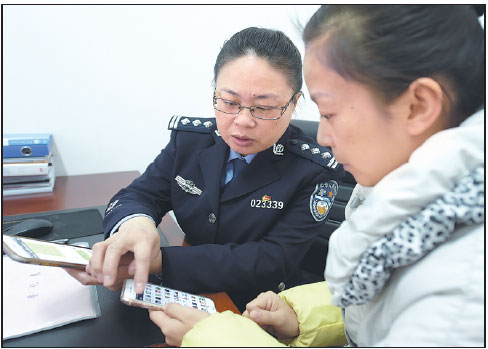 Yang Yan receives a Jianhua community resident at the police station.Provided To China Daily