Three generations of train drivers span 56 years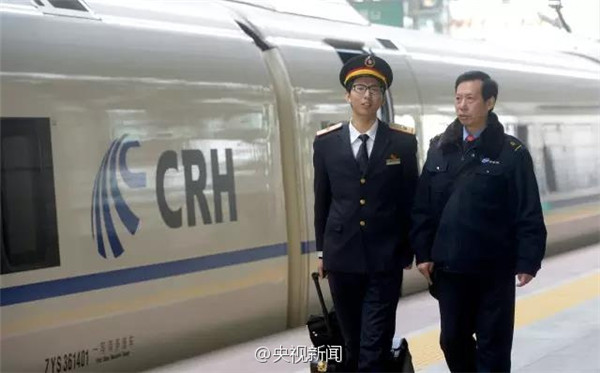 Jiang Aishun (R) and his son Qu Junjie, walk on a platform. [Photo from Sina Weibo]
Like father, like son. Three generations of a family have all worked for China's railways, a mirror of the country's development from steam power to internal combustion engines and finally to electricity.
Jiang Fulin was among the family's first generation of train drivers. Working for a Nanjing unit under Shanghai Railway Administration beginning in 1956, he traveled across the country with steam trains for the next 27 years.
His son Jiang Aishun recalled that his father used to come back with dirty clothes but leave home and return to work again with clean ones thanks to his mother.
The son was also fascinated with the sound of trains, so he followed in his father's footsteps to become a train driver, although steam was replaced with more powerful internal combustion and electricity engines. He no longer worried about dirty clothes.
The third generation, Qu Junjie, who holds his mother's family name, continued the passion for trains since a young age.
But his father Jiang Aishun didn't support his career choice at the beginning as he thought the work was quite tiring and required constant night shifts.
Qu insisted and became a driver in 2011 on a high-speed train.
These three generations have driven trains for a combined 56 years, witnessing great strides in China's railway industry.
The combined length of China's high speed railways surpassed 22,000 kilometers by the end of 2016, with the total national railway length now stretching 124,000 kilometers, according to China Railway Corp.