Son records his mother's dying days in sketches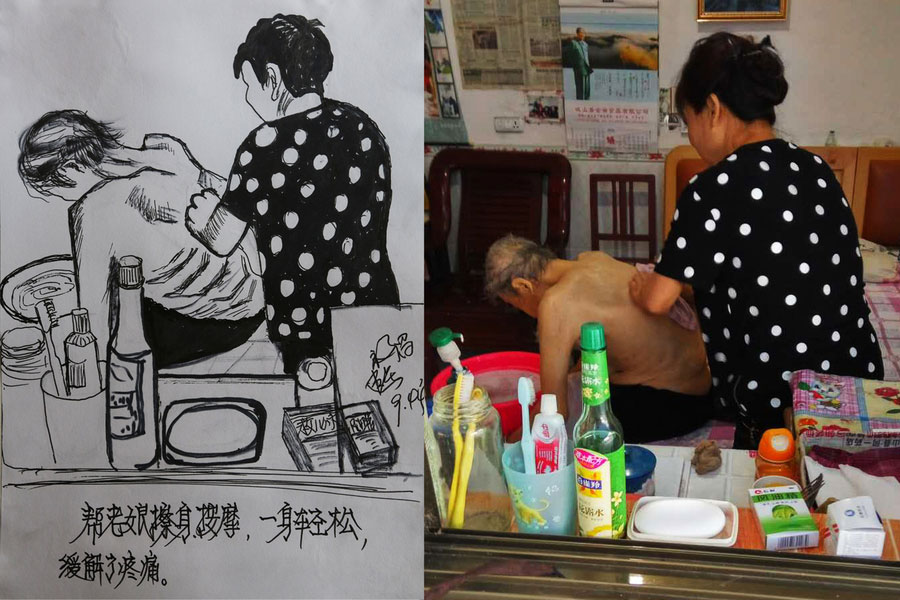 The sketch shows Li Fuchang's wife Wang Zhiqin helping wash his mother while massaging her back to relieve pain on Sept 4, 2016. [Photo/VCG]
A moving series of sketches detailing the day-to-day life of an old woman reflects the artist's love for his mother and filial duty.
Li Fuchang started doing the sketches to distract his mother's attention from the pains in her legs and spend more time with her.
In March, 2016, Li's mother, 85, said her legs were too painful to walk. After taking his mother for checks at hospitals, Li and his wife Wang Zhiqin decided to close their noodle shop in Xi'an, Shaanxi province, and return to rural Qishan county to take care of her.
Li accompanied his mother every day, helped wash her face, hands and feet, gave massages and talked with her. He would push her wheelchair outside to enjoy the sight.
His mother died in Oct, 2016.
During his time with his mother, Li drew more than 200 sketches with some thoughts on the scenes such as "love means being there".
Li said that he would take out the sketches to have a look when he missed his mother very much. The sketches bring tears to his eyes.