Tuition fees are a harsh lesson for parents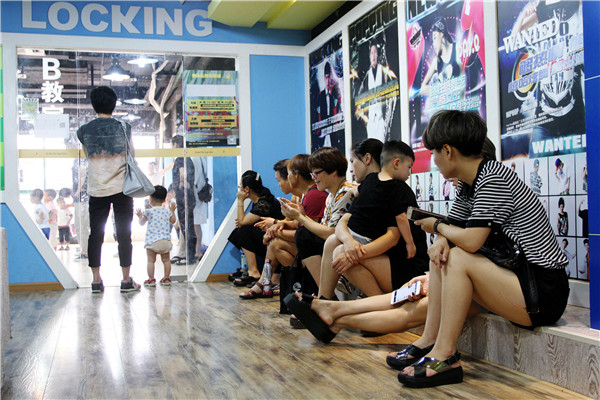 Parents wait for their children who are taking dancing class in Jinhua city, Zhejiang province. Private tuition costs not just money, but also time and energy.Shi Bufa / For China Daily
Heavy workload
The tutorial courses Wang registered for her son are held on weekday evenings or over the weekend, with each lasting two to four hours. This means her son spends almost 20 hours a week on tutoring outside school. This doesn't include time spent on commuting.
"It's not relaxing, either for me or my son," Wang said.
"Reducing student workload" has been advocated in China for many years. Recent measures to ensure this were issued by the education authorities and included 10 regulations released by the Ministry of Education that came into effect in 2013.
According to the regulations, primary schoolteachers cannot assign homework to pupils; they are also not allowed to give any type of tutoring after school; in addition, tests are banned among students from the first to the third grade. Students from fourth to sixth grade can only have only unified exams organized by the school once a semester and only three subjects - Chinese, math and English - can be tested.
These well-intended efforts seemed ineffective in making students feel relaxed, particularly after school. The time saved originally for entertainment and physical exercise is again consumed by tutoring on subjects that will be tested if children want to be accepted by the best junior middle schools, as well as ones that could be potentially developed into hobbies and strengths, such as music, fine arts and so on.
Xiong Bingqi, deputy director of the 21st Century Education Research Institute, an education think tank, said the workload-reducing policies ended up increasing the burden caused by the unbalanced distribution of high-quality public educational resources and the long-dominant, unchanged test-oriented education system in China.
"Against such a backdrop, anxious parents have no choice but to send children to after-school tutorial agencies if they want the children to score high and access the best education," he said.