Meet young science minds: Twin brothers' Spring Festival in Jilin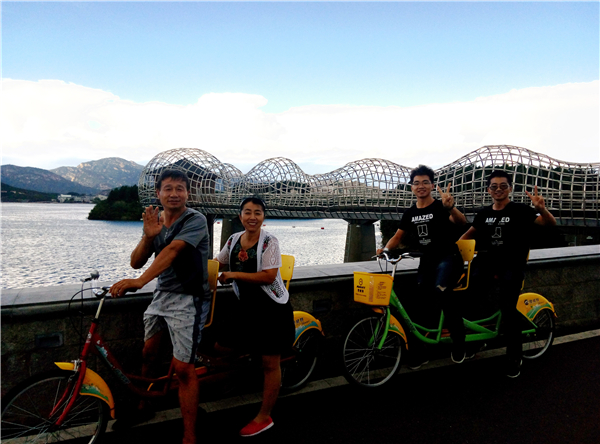 The whole family cycle by the lakeside of Yanxi Lake in Beijing in the summer of 2016.[Photo provided to chinadaily.com.cn]
Bright dreams and brain drain
Before the holidays, they submitted their application for further studies at CAS for a doctorate degree. And they believe they have a great shot at the application process. Postdoctoral studies abroad are also in their plan.
They have decided to find a job in the same city after graduation because it would be easier to take care of parents.
Beijing and some second-tier cities are preferred. "We may not come back to Jilin to find a job. There are work opportunities for me, but not many for those with a major as is my elder brother," said Yue.
The achievements they have marked are rare, particularly in this northeastern small city with a population of just over 400,000. "This is the Chinese dream," their mother said, using a buzzword in China to show her pride in her twin sons.
But it's also true that they may not come back for good, something that's common.
Brain drain is a severe problem in the rust belt. It has lost more than 1 million people in the past decade, many of them high earners and well educated. In a guideline released on Jan 24, 2017, it was for the first time mentioned as a region the central government wants graduates to work in to rejuvenate the area.
"We have seen tremendous changes in our hometown. It is now connected with high-speed train network and public transportation is more convenient. I think reforms should be adopted to promote technological innovation, which may help attract talents," said Zhang Yue.