Meet young science minds: Twin brothers' Spring Festival in Jilin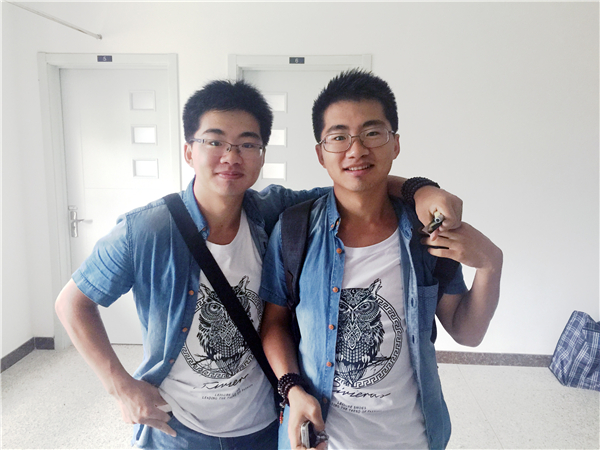 Zhang Chao (R) and Zhang Yue at the former's dormitory on their first day of studying at Chinese Academy of Sciences (CAS) in 2015. [Photo provided to chinadaily.com.cn] 
Bittersweet journey to science
Both of the twins were recommended for admission without an exam by CAS thanks to their outstanding academic performance in college. The elder Zhang Chao is now a social science fellow conducting research on innovation management under Guan Jiancheng, a top scholar on Elsevier's annual list of Most Cited Chinese Researchers.
Meanwhile, the younger Zhang Yue is researching on cutting-edge laser processing technology in a world-class lab of CAS.
Talented, promising and high achievers. But behind the gleaming façade is a moving tale: their today's sweet fruit of success is a result of years-long bitter struggle with poverty and family's health problems.
When they were born in 1993, their mother was working at a pharmaceutical factory and their father was a plumber, with both earning average income. It is hard to take care of one baby for a working mother, let alone twins.
What's more, no other family members could give a hand as their grandmas had passed away, and both grandpas were in bad physical condition.
"The toughest time was when my father broke his leg in 2002," said mother Yang Fengling.
Years of hardship and overwork took a toll on her own health. She has been battling neurasthenia since giving birth and underwent an operation on tumor in 2006 when the boys were in middle school.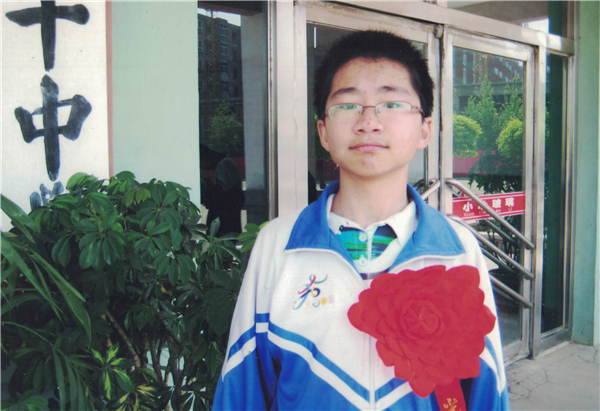 A photo taken in 2008 when Zhang Chao was recommended for admission to the best high school in the city without an exam, Jiaohe, Northeast China's Jilin province. [Photo provided to chinadaily.com.cn]
But all her struggles paid off when the twins excelled at schools. Both were admitted by the best high school in Jiaohe.
And then they received government-backed financial aid during high school years.
The twins did not realize their precarious financial situation until college as their parents always shielded them from poverty. In 2011, they enrolled at key universities in Beijing and Nanjing, each living on 3,000 yuan ($436) for an academic term of four or five months provided by parents. Average monthly living cost for college students in the two cities was about 1,000 to 1,500 yuan.
The monetary situation turned better for the family after they both got full scholarship at CAS for postgraduate studies in 2015. The family began to save money and repay debts accumulated due to the mother's illness and the father's unsuccessful business ventures.
When parents in China name their children, they generally choose some characters that carry certain auspicious connotations that reflect their own hopes.
For Chao's and Yue's mother, "becoming outstanding" is her hope for her sons, and they haven't let her down.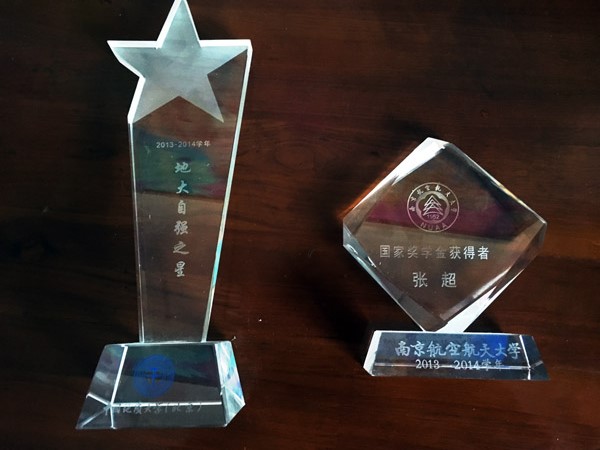 Left: A trophy awarded to the younger Zhang Yue for his persistence in hardship and outstanding academic performance. Right: A trophy certifying the elder Zhang Chao as the winner of Naitonal Scholarship.[Photo by Jin Dan/chinadaily.com.cn]