The migration of reunion – Chinese Spring Festival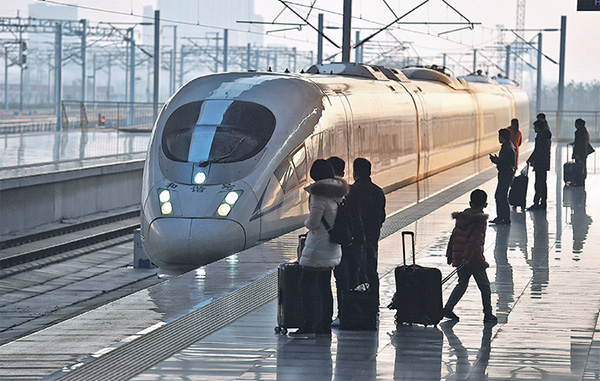 Passengers wait for their train on a platform at Hefei South High-speed Train Station on Jan 13, 2017. [WU FANG/CHINA DAILY]
Anyone who has spent the Spring Festival holiday in China and braved the traveling masses will certainly have a story to share, and since I have been in China for over eight years certainly I have a story to share about my Chinese Spring Festival traveling experience. All these years, I was lucky enough to experience the Chinese New Year. The build-up was very exciting as everywhere was decorated red, as this is seen as a color of good luck and prosperity.
Although I did not travel this year because I just came to Jinhua, I am still trying to explore my new home away from home; however, my previous traveling experiences have been something to write home about. Travel during this period is quite an adventure – several individuals journey home to reunite with their families and everywhere is very busy. It has been coined the "largest annual human migration in the world" without reason.
One thing I noticed during this period is that, whether traveling by car, train, driving or flying; expect challenges, but persevere. The best case scenario would be to book your tickets months in advance at reasonable prices. Unfortunately, this has never been a realistic option for me since my many years in China. If you are luckier than me, you can conveniently book tickets online, with no pre-sale limitations. However, if you are not willing to cough up the money, taking the train is the next best option. Although traveling by train is increasingly convenient, because the high-speed trains have made rail travel in China more convenient than ever.
There are some cases where it might be difficult to find tickets. I found myself in this very situation last two years. With no train tickets available and flights incredibly expensive, there was no other option than to "hitch a ride"; well there was the sleeper bus alternative. I must confess that the highways and traffic jams were a sight to behold. A journey that should have taken about 10 hours took more like 20 hours because of the traveling rush. As you can imagine, traffic was backed up, often coming to a halt with people getting out of their cars and buses to stretch and snack; which, in turn, resulted in the massive amount of litter scattered everywhere.
Being in China during the Spring Festival was a great experience but also a little lonely – it makes me realize how special it is to spend holidays with family. I can definitely empathize with how people living outside their countries feel at Christmas if they do not have loved ones around them. The Chinese Spring Festival made me realized how important it is to get together with loved ones to celebrate special events in one's country. This has changed my perception and given me a new sense of reasoning. The world needs this kind of migration of reunion. Most migration we witness in the world today does not create reunion but chaos and conflict. Whatever and however you choose to spend the Chinese New Year, I will leave you with a common Spring Festival greeting – best wishes for a prosperous year (恭喜发财– gōng xǐ fā cái).
Michael Omoruyi is a researcher from Institute of African Stuties Zhejiang Normal University.