Kunming reunion meals shift to farms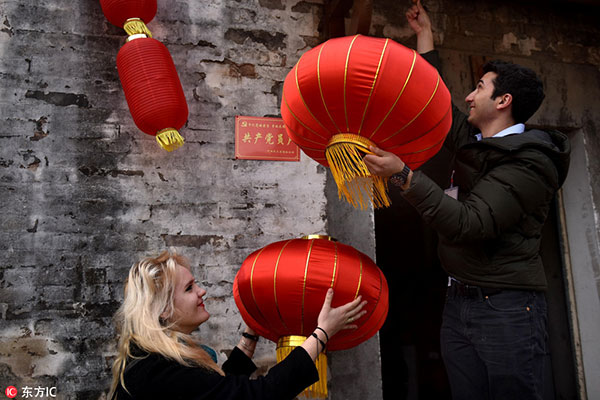 Students from overseas help hang up red lanterns at a house where they stay in China at Yuyuangu village, Wuyi county, Zhejiang province, Jan 24, 2017. [Photo/IC]
Restaurants in suburban Kunming have seen a surge in bookings for Spring Festival Eve, which falls on Friday, as more residents downtown look to relocate their annual family reunion to ensure a traditional experience.
The dinner held on Lunar New Year's Eve is known as tuanyuanfan (literally a get-together meal) and is at the top of most Chinese people's festival to-do list.
"This year, we'll go to a farmhouse restaurant with my children and grandchildren, 14 of us in total," said Zhu Zhengyi, 73, of Kunming, the capital of Yunnan province.
"It's not just about convenience. More importantly, having farm vegetables and meat that are grown simply to retain their taste, as well as being together with my family, arouses memories of the Spring Festival dinners I had as a child."
In addition, for rural residents who moved downtown, new apartments with elevators and flushing toilets have brought more convenience, but they have also led to fewer family gatherings.
Moving the Spring Festival Eve dinner to the suburbs has been a trend for two or three years. According to a report by Kunming Daily, more than half of the tables at suburban restaurants open during Spring Festival have been reserved this year.
Qibuxiang, an eatery that opened in June in Qibuchang village, said its 12 private rooms and 10 large tables were booked out two weeks ago. Only small tables are available now.
"Many of our diners live in the city center and want to cherish the New Year's Eve memory with traditional foods from the village," said Yang Chun, manager of the restaurant, which was rebuilt on the site of a primary school and is decorated in a vintage style.
The business belongs to the Huixiang catering group, which runs several high-end bars and restaurants in downtown Kunming.
On the menu for Lunar New Year's Eve are dishes with farm vegetables and meat that have been prepared using traditional local methods. Many raw materials have been handmade, such as its stinky tofu, a strong-smelling preserved bean curd. Prices for a set meal range from 600 to 1,280 yuan ($85 to $185).
"The reunion dinner is always the most important to the Chinese," Yang said. "This is a traditional culture, but more importantly it is a once-a-year gathering to renew their kinship."