Battling the scourge of depression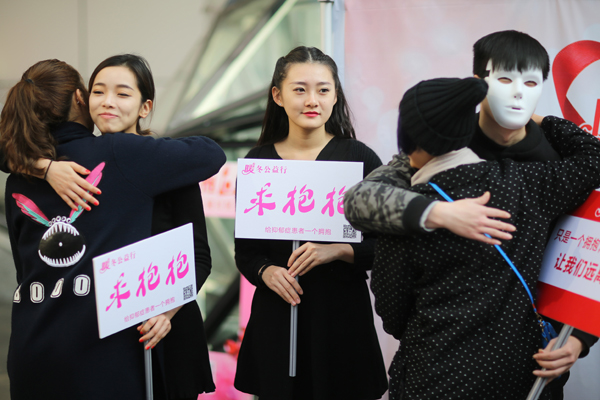 Volunteers and patients participate in a confidence-building exercise in Nanjing, Jiangsu province. [Photo by Yang Bo / For China Daily]
Campaigners are calling for better treatment of the 30 million people in China who have been diagnosed as clinically depressed. Wang Xiaodong reports.
Mo Qing (not his real name), a 30-year-old university teacher in Zunyi, Guizhou province in southwest China, was diagnosed as being clinically depressed 10 years ago, but his life has frequently been subject to bouts of despondency and dejection.
His condition began to stabilize about a year ago, but he occasionally still experiences temporary outbreaks. "Things are getting much better than before," he said. "Nowadays I can sense every impending outbreak from the symptoms, so I adjust my medication accordingly to handle it."
Although Mo can keep his condition under control and thinks he looks no different from his colleagues, he remembers clearly how he felt when a black depression hit him.
"It is a feeling of endless loss and perplexity. You feel absolutely uncertain about your life, your family, your relationships with others and your future," he said. "You cannot make choices because you believe that whatever decisions you make will result in things getting worse. You feel exhausted, absent-minded, in a melancholy state. You don't know what to do and frequently forget things."
Although he believes he inherited the condition, Mo also suspects that the family environment in which he was raised - during which he was frequently locked in his room by his parents when they went out - contributed to his depression.
"Many patients find it very difficult to seek help from others. I believe it is because, like me, they have very low self-esteem, because they think they are no good, incapable and useless. They firmly believe they will bring trouble to others and they are not worth helping," Mo said.
Patient numbers rise
The number of patients diagnosed with depression in China is estimated to be 30 million, and two-thirds of them are adult women, according to Gao Xiaojun, a spokesman for the Beijing Municipal Commission of Health and Family Planning, who cited a national survey.
However, medical experts say the true figure is likely to be much higher as a result of the low rate of diagnosis.
Earlier this month, the National Health and Family Planning Commission, the nation's top health authority, and 21 other ministries and central government departments jointly released a guideline about improving mental health in China.