Deaf professor carries smiles across the Pacific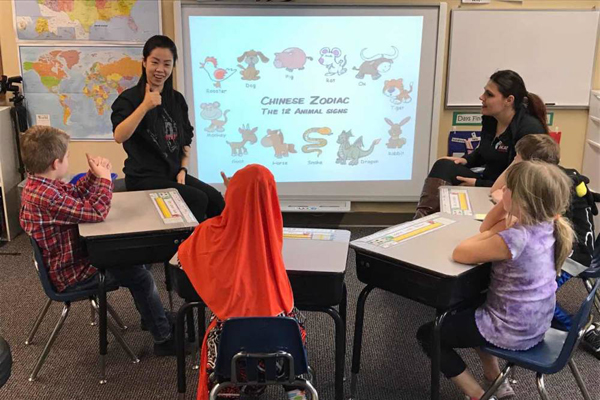 Zheng Xuan teaches Chinese Sign Language at the Metro Deaf School in Saint Paul, Minnesota, the United States.Photos Provided To China Daily
Chinese Sign Language expert Zheng Xuan became the first hearing-impaired teacher to volunteer abroad with Confucius Institute
An educator who became the first deaf person to receive a PhD from a Chinese university has broken new ground with her volunteer work abroad.
Zheng Xuan, 35, works in a "Confucius classroom" at the Metro Deaf School in Saint Paul, Minnesota, the United States.
Named after the ancient Chinese philosopher, Confucius schools and classrooms fall under the Confucius Institute program and are generally run as nonprofit public institutions to help foreigners understand China through language and culture classes at overseas universities.
There are 511 branches in 140 countries, teaching Chinese to more than 2.1 million students.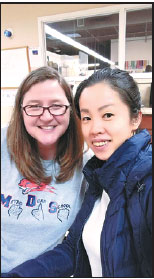 Zheng with a colleague at the Metro Deaf School.
Zheng is the first hearing-impaired teacher to have been sent abroad as part of the program, which was established in 2004.
She has adopted as her personal motto the words of Irving King Jordan, the first deaf president of Gallaudet University in Washington D.C: "Deaf people can do anything hearing people can do, except hear."
The classroom where she works was set up in 2015 in partnership with the St. Cloud State University Confucius Institute.
Zheng teaches students Chinese Sign Language, basic Mandarin and Chinese culture, but communicates with her colleagues using American Sign Language and English.
"I teach almost all the students here from kindergarten to high school now," she told China Daily via e-mail. "I work in four different languages."
Born in Wuhan in Central China's Hubei province, Zheng lost most of her hearing after a medical incident at age 2. She learned to communicate by lip-reading and entered mainstream education, completing her undergraduate and postgraduate studies at Wuhan University, one of the top schools in China. In 2009, she receive a PhD in literature from Shanghai's Fudan University.