Luxury hotels for furry guests boom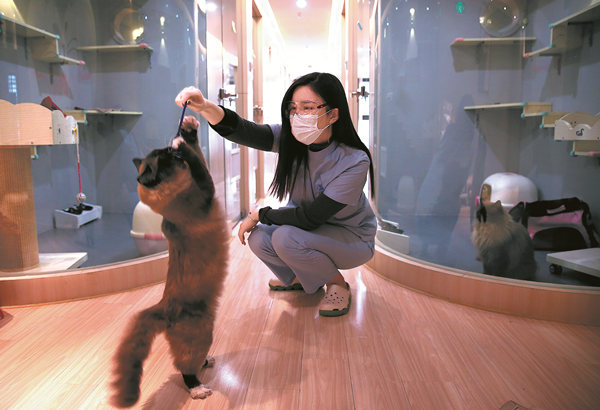 Vivi Wang, the 25-year-old owner of VAC Cat Hotel and Spa in Beijing, plays with a feline guest on Wednesday. Most cats stay from 7 to 10 days while their owners are away for Spring Festival, she said. ZOU HONG / CHINA DAILY
While the streets of major Chinese cities start to empty as people return home for Spring Festival, businesses providing accommodations for left-behind pets are enjoying their busiest time of the year.
For lots of people, securing a suitable temporary home for a pet — which many now treat as a family member — is just as difficult as getting a train ticket during the year's most important festival. It can be even more costly.
Luxury "pet hotels" in Beijing and Shanghai can be more expensive than hotels for people, and they were fully booked at least a month before the weeklong holiday.
VAC Cat Hotel and Spa in Beijing touts what it calls the best possible care for cats. It has 15 individual modern and spacious suites with catwalks, multilevel platforms and "fun" nooks. Each room only allows one feline guest.
The hotel's normal room rate is 350 yuan ($50) a day, including daily feeding and grooming services. Its rate went up by 15 percent during the Spring Festival holiday season and all suites are booked, owner Vivi Wang said on Wednesday.
"Most cats will stay with us from 7 to 10 days. Knowing their cats will enjoy luxury rooms and services makes people feel less guilty about leaving them behind," she said.
In Shanghai, pampered pooches don't have to be relegated to spending the holiday in a cage. Instead, they can enjoy self-described five-star luxury hotels designed just for canines. That means private suites ranging from 1 to 4 square meters each; individual, 24-hour butler services; daily housecleaning and a heated swimming pool.
"Pets have become such an integral part of the life of many urbanites that when the owners are on vacation, they want to make sure the animals are given the same treatment," said Qi Jing, who owns Qian Xiaoyang's Pet Hotel in Shanghai.
The hotel charges 580 yuan a night, arguably the most expensive in town and about three times the average price of dog accommodations. Her hotel, located in Shanghai's central Bund area, can accommodate 13 dogs at one time and is staffed by an equal number of caretakers.
All 13 suites were booked for the Spring Festival holiday by early December, and Qi said she has had to turn down scores of inquiries over the past two weeks.
In addition to luxury suites, some budget pet accommodation have also doubled their prices, given the large demand.
A pet hospital providing foster care service in Changsha, capital of Hunan province, normally charges 40 yuan a day for taking care of an adult cat. The price will jump to 80 yuan from Jan 26 to 30.
Feng Zhiwei in Changsha contributed to this story.