Chinese monk's epic journey to Japan to be staged in Beijing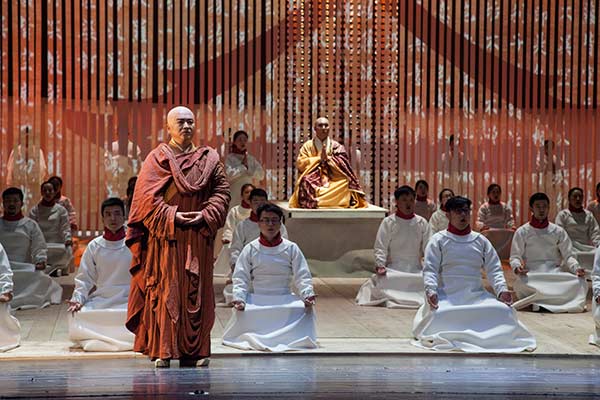 A stage shot from Jianzhen's Journey to Japan. [Photo provided to chinadaily.com.cn]
Jianzhen's Journey to Japan, a China-made opera adapted from the legend of Chinese monk Jianzhen's tenacious attempts to travel to Japan to promote Buddhism in the eighth century, will kick off its first appearance in China at the National Theater of the Performing Arts in Beijing next month.
"There are numerous monuments and mausoleums in the world that commemorate historic figures, but we are fortunate to sing his praises in the form of opera," said Tang Jianping, the opera's composer.
During his 10-year stay in Japan, Jianzhen not only propagated Buddhism, but also contributed to cultural exchanges by introducing China's calligraphy, architecture, music and medicine.
The troupe toured in Japan, performing five times in Tokyo, Nara and Kyoto in December last year. The premiere was staged in Tokyo on Dec 20, the anniversary of Jianzhen's arrival in the country 1,263 years ago.
The performances were well-received in Japan. Former Japanese Prime Minister Yukio Hatoyama, who saw the performance, called the play "phenomenal".
Cheng Yonghua, China's ambassador to Japan, said the story of Jianzhen is familiar to the people of the two countries. This year marks the 45th anniversary of the normalization of China-Japan diplomatic relations and the spirit of Jianzhen as an envoy between China and Japan to promote cultural exchanges should be carried forward.
Jianzhen (688-763), known as Ganjin in Japan, made six attempts to visit Japan at the invitation of Japanese monk Yoei from 743 to 753.
The first five attempts failed and the last one left Jianzhen blind from an infection, but the resolute monk finally made it to Kagoshima, the southwestern tip of Kyushu Island, on Dec 20, 753.
It was Jianzhen's determination and courage that inspired the composer Tang Jianping to tell the Chinese story in an international language – opera.
The main cast made several trips to Japan, even retracing the route Jianzhen traveled, to get a better understanding of the great monk.
Jianzhen died in 763, and a statue of him still stands in Nara.
Jiangsu Performing Arts Group will stage two shows of Jianzhen's Journey to Japan at the China National Theater of the Performing Arts on Feb 5 and 6.