Chinese opera celebrates Jianzhen's journey to Japan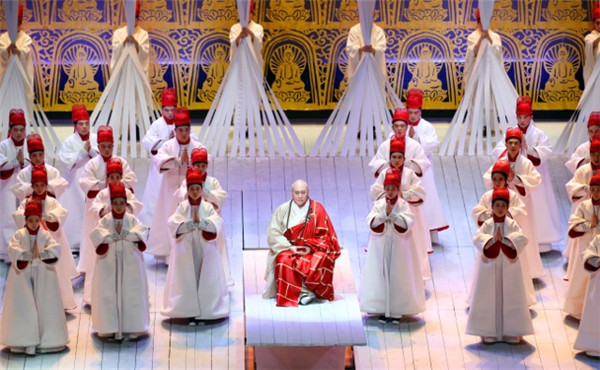 The opera Jianzhen's Journey to Japan is now touring Japan. [Photo by Yoshinori Matsuda/For China Daily]
A China-made opera, Jianzhen's Journey to Japan, premiered in Tokyo on Tuesday, the anniversary of the Chinese monk's arrival in the country 1,263 years ago.
The opera's director, Xing Shimiao, calls it "a mere coincidence".
But the return of the Chinese monk caused a stir in Tokyo as Jianzhen, or Ganji as he is known in Japan, is a household name in the island nation. He is still revered as Japan's benefactor.
The production by Jiangsu Performing Arts Group made the full-house Bunkamura Orchard Hall in Tokyo's Shibuya roar, with former Japanese prime minister Yukio Hatoyama as the first person to stand and applaud.
"It is phenomenal that actors from Jianzhen's ancestral hometown of Yangzhou, Jiangsu province, put his story on Japan's stage tonight," says Hatoyama.
"What he had brought to Nara still has an influence on Japan today."
The opera highlights Jianzhen's six attempts to go to Japan from 743 to 753.
At the age of 14, Jianzhen became a disciple at the Daming Temple in Yangzhou.