Home / China / Environment
New species of 'skywalker' primates identified in China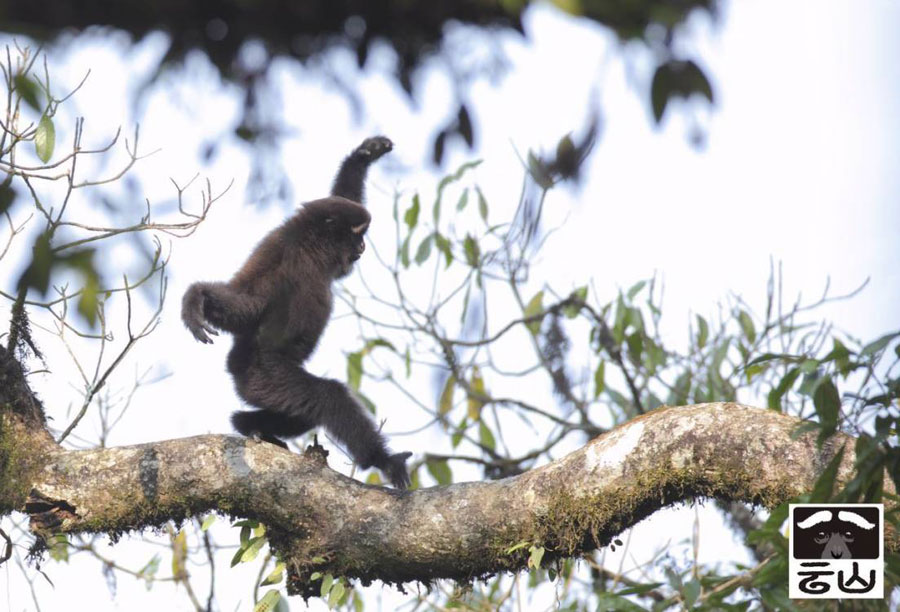 A white-browed gibbon living in the Gaoligong Mountain (Gaoligongshan) National Nature Reserve in Southwest China's Yunnan province. [Photo by Zhao Chao/Provided to chinadaily.com.cn]
A Chinese-led international team of scientists has identified a new species of apes after discovering significant differences between gibbons living in China and their counterparts in other countries.
Previously, the white-browed gibbons living in China were believed to belong to the eastern hoolock species.
However, after carrying out physical and genetic comparisons with other gibbons, scientists concluded that the primates living in Gaoligong mountainous area belong to a different species.
They've named the new species the Gaoligong hoolock gibbon or skywalker hoolock gibbon (Hoolock tianxing), meaning "skywalker" or "heaven's movement".
Gibbons in Southwest China don't have white beards or white fur around their eye sockets, and they have thin eyebrows with a wider space between them.
The findings have been published in the American Journal of Primatology, a monthly peer-reviewed science journal.
Less than 200 Gaoligong hoolock gibbons live in China, one-tenth of the wild giant panda numbers, China Central Television reported.
Scientists have called for greater protection of the animal.
They said in the report that "the new species should be categorized as endangered under IUCN criteria."
"The discovery of the new species focuses attention on the need for improved conservation of small apes, many of which are in danger of extinction in southern China and Southeast Asia."
Hoolock gibbons mainly live in mountainous areas in Bangladesh, India, China and Myanmar. They spend most of their time in the treetops, swinging through the forests with forelimbs, spending little time on the ground.