Bristol, UK - A baby gibbon whose mother was unable to feed her has found an unlikely surrogate mum - a toy camel.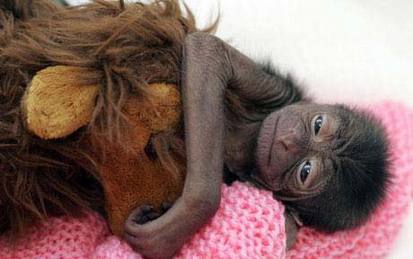 The baby Siamang gibbon, which was rescued after her mother was unable to feed her, has found comfort in a toy camel which she cuddles all day. [Agencies] 
The ten-day-old female Siamang gibbon was found starving to death and weighing just 510 grams after her mother failed to produce milk for her.
However, staff at Noah's Ark Zoo in Bristol were able to rescue the gibbon, who has yet to be named, with the help of the stuffed toy camel and a minute feeding pipette.
She is now being comforted by the toy and hand-reared on baby formula through the feeding pipette.
Sleeping in an intensive care incubator, donated by the Bristol Royal Infirmary, staff at the zoo say she is fighting back to health.
Sadie Garland, primate keeper at the zoo, was the one who stepped in to rescue the new-born, who needs regular feeding, changing and lots of sleep.
"We would have preferred to keep her with mum but after close monitoring the baby was clearly going downhill.
"It was decided that it would be in the best interests of the baby to intervene. We have given the baby gibbon a toy camel which she cuddles all day.
"She is quite fragile at the moment but is progressing well and we are hopeful that she will eventually be put back in the gibbon gallery with mum and dad."
Siamangs are the largest of the gibbons and this baby girl will eventually weigh approximately 11kg.
They are indigenous to the Indonesian island of Sumatra and across the southern tips of Thailand and Malaysia.
Siamangs are part of a European Endangered Species Programme (EEP) because they are under threat from habitat destruction in their native countries.
Forest fires have destroyed two million hectares of rainforest in the last two decades and palm oil plantations have replaced over 10 million hectares of rainforest in Indonesia and Malaysia.