Environment experts look into high levels of sulfur in Linfen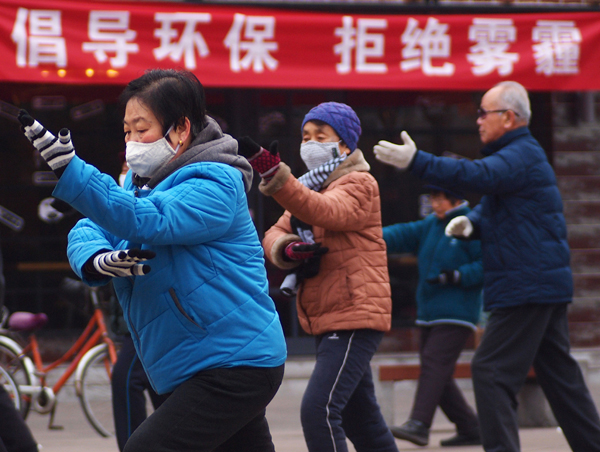 People exercise in Linfen, Shanxi province, on Tuesday morning. The slogan on the red banner reads,"Promote environmental protection and say 'No' to smog".Xu Yin / For China Daily
The central environmental authority and Shanxi provincial government have sent experts to uncover the reasons and provide solutions for reducing the alarmingly high concentration of sulfur dioxide in Linfen, Shanxi province, which has engulfed the northern city for days and raised health concerns.
The experts have already started thorough research on sources of pollution in the city, according to a statement released by the Ministry of Environmental Protection on Thursday.
The city saw alarmingly high concentrations of sulfur dioxide in December, reaching 348 micrograms per cubic meter, 4.8 times the national standard, according to the city's environmental protection bureau, adding that the concentration had soared to 1,303 mg per cubic meter at 11 pm on Jan 4.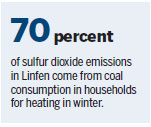 Sulfur dioxide is a gas usually generated by the burning of fossil fuels such as coal and oil. According to the World Health Organization, high levels of sulfur dioxide can harm the respiratory system, suggesting that long-term levels should be below 20, and that people should not be exposed to concentrations exceeding 500 for more than 10 minutes.
Coal consumption has been suggested as a major source of the excessive sulfur dioxide emissions in Linfen.
"About 70 percent of its emissions come from coal consumption in households for heating in winter," Zhang Wenqing, deputy head of the environment bureau, said after residents expressed concerns about the extremely high pollution levels.
In addition, the discharge from industrial production, including plants for power, iron and steel, is another major source, and a lack of wind has failed to disperse the severe pollution, he added.
On Monday afternoon, the deputy mayor of Linfen, Yan Jianguo, apologized to the public for the recent high levels of sulfur dioxide.
He said the city would release information about air pollution in a more efficient manner and work to control the sources of harmful pollutants.
"The most urgent and effective measure would be replacing the coal that has high sulfur content," said Chai Fahe, a researcher at the China Research Academy of Environmental Sciences.
Zhang Lei, a local resident, said, "The pollution from coal consumption has been a long-existing problem".
He had a sore throat for more than two weeks due to the polluted air. "I have seen no clear improvement in air quality in recent years, so I hope the authorities help reduce the alarming pollution."