Writing a new history for creative poems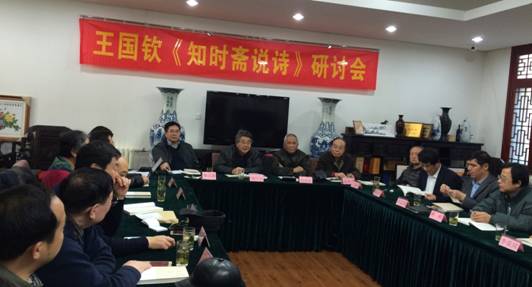 Senior literary experts discuss poetry trends at a Beijing forum. They include,from back row to the right,Yang Zhixin, Yang Kuanghan, Zheng Bonong, Yue Xuanyi, Ding Guocheng, Cai Shiping, Chen Dingjia and Lin Feng. [Photo by Fan Qian and Wen Jia/chinadaily.com.cn]


Poets from northern and southern China explore the adaptation of thousands of years of tradition into modern times

Two middle-aged men of medium build, though thousands of miles apart and having never met, both initiated separate gatherings to greet the year of 2017, which they believe is special to poetry.

In downtown Beijing, Wang Guoqin became the focus of a Sunday forum dedicated to the criticism of his new book Talking About Poetry From Zhishi Studio while marking the 30th anniversary of the Poetry Institute of China. "Poetry is the light ahead in the dark tunnel of my life,"said the founding member and executive councilor of the institute. Participants found his book rich in exploring the succeeding thousands of years of traditional poetry that is increasingly attractive to worldwide readers who also wonder about today's happenings.

That same day, at an evening party in the city of Zhongshan in South China's Guangdong province and in the presence of hundreds of people from Guangdong, Hong Kong, Macao and Taiwan, poet Qiu Shuhong called for holding a series of activities to celebrate the birth of "new poems"a century ago, which are free in rhymes and lines compared with traditional verses often preset with the number of characters, tones and rhymes.

Poetry is among the best ways to promote advanced Chinese culture, Wang Guoqin said in his book, and his idea was echoed at the forum. Qiu, in his proposal to the literary circle, read out aloud: "The healthy progress and prosperity of poetry, new style poems included, should be inherent to the realization of the Chinese Dream."

Qiu, chairman of the local political consultative organization of Zhongshan, shared his ponderings 100 years after Hu Shi published his first collection of free-styled poems in 1917: "How is the history of new Chinese poetry? What is it like today? What are its achievements and shortcomings? Where is it heading?"

Systematic answers to similar questions that could have challenged generations of literary people can be found in Wang's book, said honorary president of the poetry institute Zheng Bonong. "The beauty of traditional poetry simply cannot be ignored,"he quoted Wang as saying, "and that will keep poems in the traditional forms alive today and in the future."

Zheng said Wang's book also raised issues on poems of Mao Zedong, poems reflecting the will of times, making contemporary history, ways to be creative in writing and improving wording. "The topics are hot in the circle and quite eye-catching online,"said Zhou Nan, an online chief editor at www.yzs.com, one of the mainland's most influential poetry websites. Chapters of the book carried on the site rank high on its hits, well exceeding 200,000.