Rankings to aid career prospects
A reform of the ranking system for Chinese and foreign professionals, to be launched within three years, will boost the career prospects of millions by removing outdated requirements, according to experts.
Professionals across most industries are placed in three categories - junior, midlevel or senior - which limits their opportunities for promotion. To advance their ranking, they are evaluated in areas such as foreign language ability, computer skills and published work.
However, the reform will see a greater emphasis placed on ethics, social contribution and innovation, the general offices of the Communist Party of China Central Committee and the State Council said in a notice on Sunday.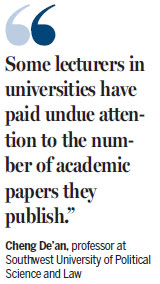 A reformed system will start to take shape within five years and will affect more than 55 million Chinese and foreign professionals, making it easier for many to apply for higher positions, the notice said.
Initially, the reform will affect those in the fields of engineering, hygiene, agriculture, accounting and scientific research as well as employees at higher-education institutes.
Wu Jiang, a former dean of the Chinese Academy of Personnel Science, welcomed the move, saying it will prevent cases where "someone with the right professional ranking is not qualified for the job they have, while someone else who is qualified does not have the necessary ranking to apply for it".
The changes mean those who have made major contributions will have a better chance of applying for senior professional positions, while a "green channel" will also be set up for eligible overseas experts to take senior posts, he said.
Currently, the criteria used to decide professional rankings, including published work, educational background, seniority, foreign language ability and computer skills, has resulted in many Chinese teachers, doctors, nurses and engineers being disappointed, Wu said.
He said a seed-breeding expert failed to get a job as an associate research fellow because he could not pass the required English exam, even though he had developed corn varieties that had helped increase output by millions of metric tons.
The requirement for published work has also resulted in many doctors and academics becoming involved in academic fraud to win qualifications.
The current rankings system does not meet the requirements of the times and some tests - notably the foreign language requirement - creates bottlenecks, Cheng De'an, a professor at Southwest University of Political Science and Law, told Xinhua News Agency.
"Some lecturers in universities have paid undue attention to the number of academic papers they publish," he added.
Contact the writer at houliqiang@chinadaily.com.cn