Country to expand corn ethanol amid grain surplus
China will further encourage the use of corn to make ethanol this year amid efforts to reduce its huge grain stocks, as authorities mull adjustments to the floor prices for wheat and rice this year.
Xu Shaoshi, head of the National Development and Reform Commission, told an annual work conference on grain circulation recently that the top economic planner will allow a moderate increase in corn-based ethanol and expand its use in other areas to help absorb the corn stocks.
"Instead of subsidizing the storage facilities, it is better to use the grain to subsidize processing enterprises, which will also alleviate the pressure on warehousing," he said.
He added that encouraging the use of ethanol gasoline will also help reduce emissions, and thus help solve the air pollution problem the country faces.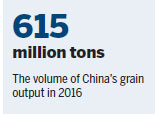 China is still facing a huge combined grain reserve, estimated to be the largest in the world. The country is sitting on a hoard of corn estimated to be as large as 240 million metric tons, Reuters reported. China's grain output dropped by 0.8 percent year-on-year to 615 million metric tons in 2016, ending 12 years of increases.
Xu said the NDRC is also considering adjustments to the minimum purchase price policy for wheat and rice this year. The central government announced an end to the floor price for corn in March 2016.
"Initial thoughts are to increase the flexibility and elasticity of the policy, and reasonably adjust the level of the minimum purchase price," he said.
However, he stressed the importance of preventing a sharp increase or decrease in price, adding that ensuring the financial gain of farmers remained a priority.
Xu said China will continue to control the imports of corn substitutes, such as sorghum and barley, as well as the imports of meat, poultry and dairy products, to reduce the grain stocks.
Xu Ming, deputy head of the State Administration of Grain, said at the work conference that the administration will also encourage multiple entities in the purchase of grain, and encourage farmers and enterprises to store more grain to alleviate the pressure on grain reserves.
Corn and rice are the two grains facing a surplus, and about 85 percent of the grain stocks are in government storage facilities, he said.
Xu said the authority will also try to encourage the production of high-quality grain and cooking oil products amid growing public demand for better agricultural produce.
xuwei@chinadaily.com.cn