Two men detained for false charity
Two men have been detained for allegedly pocketing money donated via live online streaming, police in Southwest China's Sichuan province said on Wednesday. The duo, surnamed Yang and Liu, live-streamed the distribution of cash in a poverty-stricken area in Liangshan Yi autonomous prefecture, but asked for the money back after the streaming, according to a police officer at the local public security bureau.
They also requested local villagers return most of their "donated" goods, including eggs and pencils.
Police started investigating the case in early November last year following an online video showing Yang, under the screen name "Brother Jie", giving villagers money, but asking for it back later. Liu, calling himself "Black Uncle" online, was caught on camera saying they had conducted the live streaming to make money.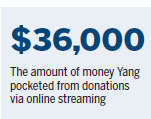 The video angered netizens, who demanded the duo be punished and called for stronger supervision of live-streaming sites.
With the help of the live-streaming website Kuaishou, police caught Yang in mid-November in Suzhou, Anhui Province, and Liu in mid-December in Shenzhen, Guangdong Province.
Both confessed that they had live-streamed many times since September last year to gain online donations. At the time they were arrested, Yang and Liu had made 249,000 yuan ($36,000) and 186,000 yuan respectively by cashing-in virtual gifts donated by netizens.
An investigation into the case is underway.