Citizens rally to support union in Hong Kong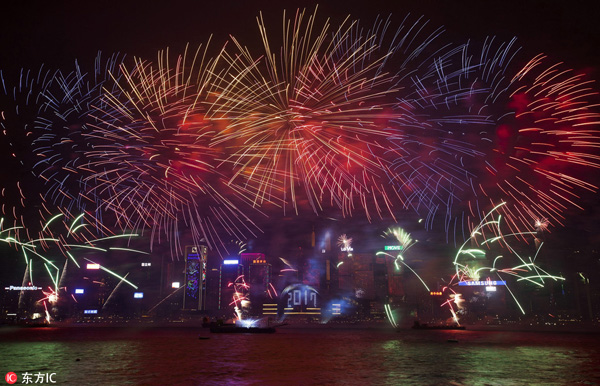 Fireworks illuminate the night sky over Hong Kong's Victoria Harbour during New Year's Eve celebrations, Jan 1, 2017. [Photo/IC]
Citizens in China's Hong Kong special administrative region rallied on Sunday, the first day of the new year, to support union in Hong Kong.
"I chose to attend the rally on Jan 1, because I want to let my voice heard that I'm a Chinese and Hong Kong is a part of China -- this is a fact and can't be changed by anyone," said 30-year-old Chan Shiu-yan, while holding his mobile phone to video the event, which was organized by Defend Hong Kong Campaign, a patriotic group.
Lam, who declined to provide her full name, brought her two grandsons to the rally. "I often teach them to be patriotic. We are Chinese, and this is the fact. It can help them understand it better, if I take them to such a rally to see many citizens are showing their love for the country and Hong Kong," she said.
Fu Chun-chung, chairman of Defend Hong Kong Campaign, said for 20 years, Hong Kong citizens have been understanding "one country, two systems" and the Basic Law better. But it is a fact that some people in Hong Kong are hurting Hong Kong's prosperity and stability.
He called for more measures to fight against the so-called "Hong Kong self-determination" and "Hong Kong independence."
Patrick Ko, chairman of another group Voice of Loving Hong Kong, said his group will organize more trips to the Chinese mainland to boost the youth's understanding of the country.
80-year-old Chak said he would attend patriotic activities whenever possible, though he has to take care of his wife most of the time.
"Not only me, my children and grandchildren are the same... The tradition must be passed down ... We are Chinese," he said.
"When I was young, I was quite poor and had to work very hard to earn a living. Now three of my grandsons are studying in college... You are young enough to have a promising future and don't get trapped by the 'Hong Kong independence' talks," he said.