The stories that made our year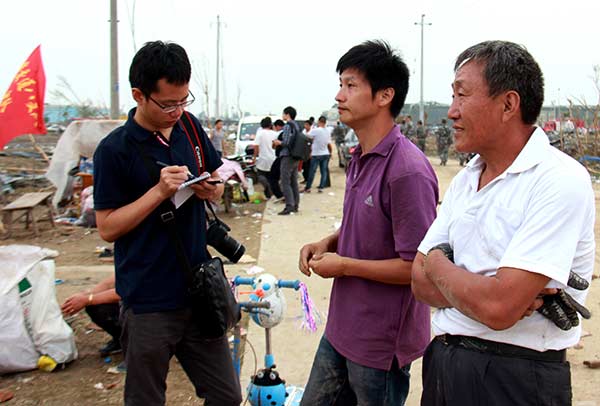 Xu Wei (left)
Broader horizons
By Xu Wei
Watching monks debate the scriptures at a Tibetan Buddhist monastery is awe-inspiring, and at times it reminds one of the purity of the monks' lives.
That was my shallow first impression as I watched a scriptural debate, which serves as the ultimate test for monks applying for qualifications, equal to doctorates or graduate degrees, at the High-level Tibetan Buddhism College in Beijing in May.
As a religious affairs reporter, one of my major challenges is that there is so much to learn.
This time it was the basics of Tibetan Buddhism, without which I would not have had a clue about the subjects the monks were debating. Sometimes, the discussion became so intense that I was worried it might actually turn into a physical brawl.
Sangnga Nyima was one of the monks chosen to face the challenge from several scripture teachers simultaneously.
The 23-year-old abbot of a monastery in Nyingchi city in the Tibet autonomous region completed a Chi Ram Pa program-equivalent to a master's degree-at the college after an accomplished performance in the scripture debate in May.
Seven months later, having returned to his monastery to assume the role of abbot, he has found his experiences in the college were highly beneficial.
"Before, I spent virtually all my time in the monastery, reading and studying the Buddhist classics. I had no idea what the world outside Tibet was like," he said in a phone interview.
"The two years I spent in Beijing broadened my horizons. I was given the opportunity to travel around the country and the capital city. Surprisingly, it helped me to better understand the classics," he said. "It also helped me become a better person. I made a lot of friends, and I learned how to get along with people."
One of the keen realizations that emerged from both Sangnga Nyima's study trip to Beijing and my visits to Tibetan Buddhism monasteries is that seeing is believing-and that can open one's mind a little bit more.