China's labor market: Shrinking workforce, rising wages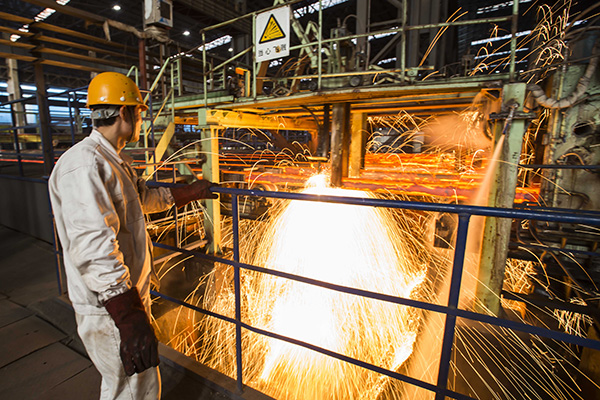 A worker at a steel company in Lianyungang, Jiangsu province, in January 2015. [Photo/China Daily]
The country's working-age population is expected to continue to decline in 2016 after 20 million stepped out of the market in the past five consecutive years, said a leading labor expert on Saturday, China Business News reported.
The shortage of workforce means labor cost will continue to increase and industrial transfer and technology will substitute workers, said Zeng Xiangquan, head of the school of human resources at Renmin University, at an annual conference hosted by the China Association for Labor Studies.
University graduates account for nearly half of the labor force entering the market, making a fundamental change in the quality and structure of the workforce, said Zhang Chewei, head of the Institute of Population and Labor Economics at the Chinese Academy of Social Sciences.
The market is unable to provide traditional industries with the required number of workforce and the past high-input economic development mode is unsustainable, Zhang said.
Working-age population to drop to 700 million in 2050
The working-age population of between 15 to 59 years old peaked at 925 million in 2011 and has fallen every year since then, with 3.45 million fall in 2012, 2.44 million in 2013, 3.71 million in 2014 and 4.87 million drop in 2015.
Zeng forecasts 2016 will see a drop of labor population leveling up or even bigger than the decrease of 2015. "If we count the 4.87 million decline this year, the working-age population fell a total of 19.34 million in the last five years. It is not a small number," he said.
The working-age population is expected to see a sharp drop from 830 million in 2030 to 700 million in 2050 at a declining speed of 7.6 million every year, said Li Zhong, a spokesman for the Ministry of Human Resources and Social Security, in July.
With decreasing supply of labor force, the salary of all industries grew at a rate of 11.3 percent in 2011, 10.5 percent in 2012, and 9.7 percent in 2013, said Zeng, adding that many foreign enterprises left China and shifted to Southeast China due to rising labor cost.
The scale of floating labor force has become bigger and frequency quicker. Date shows the demission rate of labor intensive enterprises stood at 35.5 percent in 2011, 37.2 percent in 2012 and 36.2 percent in 2013.
Working-age population aging but educational level enhanced
In the 20 years between the reform and opening-up and the early 21 century, there was a strict control on age for workers in assembly line. Factories selected young workers with highest productivity until labor force shortage emerged in recent years.
Zeng said the population of young workers between 15 and 24 years old fell most, from 120 million in 2006 to estimated 60 million in 2020. In the same time, the working-age population between 55 and 65 years old rose to make an aging labor force structure.
But the quality of working-age population was enhanced.
Zhang Chewei said that for a long time, more than half of the newly increased labor force had an educational level below the junior high school, and they became the low-cost labor in the manufacturing industry. Now, university graduates account for half of newly increased labor force.
Lack of high-skilled talents
"Though the educational level of labor force was enhanced, the quality of university students cannot match the need of industrial upgrade. There is a gap between graduates' working ability and market's need," said Zhang.
The lack of high-skilled talents is a pain point for China's economic upgrade. Data shows high-skilled talents only make up for 4 percent of China's labor market, common-skilled labor force 20 percent and 76 percent of people have no skill at all.
The Kelly Global Workforce Index (2014), an annual survey issued by staffing agency Kelly Services, reveals that the core competitiveness of 92 percent of China's enterprises are affected by the shortage of and low quality of labor force, with quality problems more severe.
Zeng Xiangquan said more emphasis should be put on training and human capital investment to cushion the structural conflict in the labor market. Though a large amount of capital was invested in the labor training, but the effects is not obvious. So it is more important to strengthen the evaluation of the training programs and enhance their efficiency.