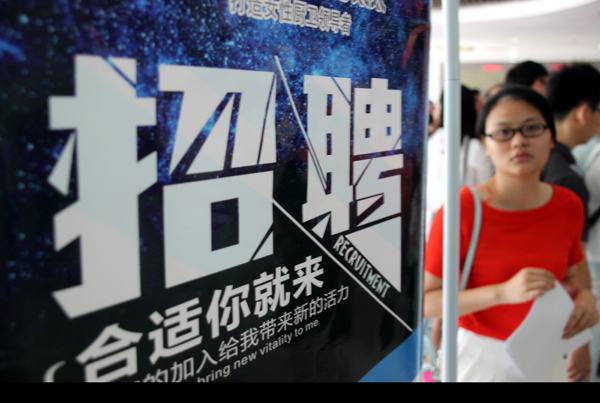 Job seekers at a job fair in Suzhou, East China's Jiangsu province, July 30, 2016. [Photo/VCG]
BEIJING - China's job market was steady in the first half of this year, but labor oversupply and structural shortages continued to trouble the economy.
In the first six months of the year, 7.17 million new jobs were created in Chinese cities, as the government fulfilled 71.7 percent of its annual target, according to data from the Ministry of Human Resources and Social Security.
The urban registered unemployment rate, which is based on the number of unemployed people registering with human resource authorities or employment service institutions, was just over 4 percent.
The official "surveyed" unemployment rate was 5 percent. This rate is based on research in 31 major cities and was introduced in 2014 to serve as a supplement to the "registered" urban jobless rate after critics questioned its accuracy.
Zheng Dongliang, dean of the Institute of Labor Science under the ministry, said the steady labor market came off the back of a stabilizing macroeconomy.
Although the economy grew at a slower pace, incremental economic output remains strong, which is enough to create jobs, he added.
Mo Rong, director of the Institute of International Labor and Social Security, said the job data showed that the government's effort to cut red tape was working, as at least 10,000 private businesses were set up each day, providing substantial job opportunities.
Zheng Dongliang said that as the service sector played an increasingly significant role in China's economy, it would generate more jobs in the coming years.
College graduates represent the majority of new jobseekers. In 2016, there were 7.65 million new college graduates in China, and 80 percent found jobs straight after graduating.
"The Internet is a flexible platform for graduates to land jobs," Zheng said. "Their starting wages are not high, but they are growing fast."
Economic growth held steady at 6.7 percent in the second quarter, the lowest level since 2009, but still within the government's target range of 6.5-7 percent.
Although the labor market is steady, labor oversupply and structural shortages are still causing problems.
China's labor force aged between 16 and 59 will total 900 million in 2020, according to official estimates.
However, lackluster business performance and the increased use of robots will reduce labor demand.
Meanwhile, some employers are having difficulty finding highly-skilled workers.
Zheng Dongliang said targeted measures were needed to shore up job training and social security services.