Returned pandas adapting to new Sichuan home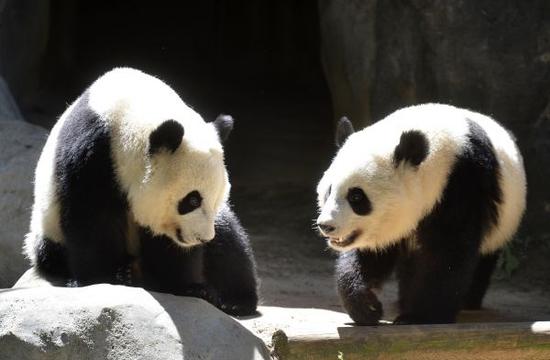 Mei Lun and Mei Huan at the Atlanta Zoo in Atlanta, Georgia, May 22, 2015. [Photo/Xinhua]

A returned pair of panda twins from the US are catching up with local dialects as well as adapting to local delicacies in their new home in Southwest China's Sichuan province.
Mei Lun and Mei Huan, the first surviving pair of giant panda twins born in the US, started a 30-day quarantine when they landed at the Chengdu Research Base of Giant Panda Breeding on Nov 5.
The female twins could only respond with a confused look when hearing their names called out in Sichuan dialect, but are still trying to fathom the words like "have you eaten up" and "did you have a good time" in local Sichuan dialect, according Luo Yunhong, the pandas' breeder.
On the contrary, they would give an immediately response to English orders like "come here", Luo added.
Like the preference for language, the pandas prefer "western fast food" instead of local food wowotou (a kind of steamed corn bread), according to Luo. "Biscuits are their favorite treats."
During the return trip by air, the pair were accompanied a considerable amount of panda-particular luggage, including about 375 pounds of bamboo and 25 pounds of favorite treats, including sugarcane and giant panda biscuits.
But Luo said he was trying to decrease their intake of biscuits by adding wowotou day by day.
"Biscuits and wowotou have similar nutritional ingredients but different flavors result from different preparation methods," Luo said.
Mei Huan, who has been adapting quicker than her elder sister, has gradually gotten used to the change of menu, Luo said, even though Mei Lun is just sniffing at the food.
As the pair's 24-hour breeder during the quarantine, Luo's daily work includes field observation, checking panda feces, measuring weight and body temperatures, writing in an observation log and then reporting to Chengdu Entry-Exit Inspection and Quarantine.
"For returned pandas, this is an essential process," said Liu Zhenwei, staff of the entry-exit inspection and quarantine.
Liu said 90 percent out of 200 giant pandas have gone abroad or returned overseas from Sichuan province.
The good news is that Mei Lun and Mei Huan's appetite and digestion are improving, judging by the weight of their feces, which has grown from 7 kg to 10 kg, although their body weight remains the same, Liu said.
The female pandas are the fourth and fifth offspring of Lun Lun and Yang Yang, who arrived to Atlanta Zoo in 1999 on loan from China. The conditions of the loan included the stipulation that the offspring of the couple will all eventually return to China before turning four to take part in breeding projects.