Tech agreements abound at matchmaking event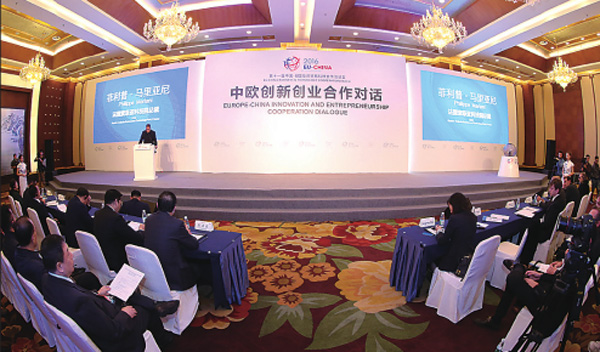 A high-profile innovation and startup forum is held during the 11th EU-China Business and Technology Cooperation Fair in Chengdu earlier this month. [Photo/China Daily]
A matchmaking event at the 11th EU-China Business and Technology Cooperation Fair helped Chinese and European organizations to more efficiently communicate and find partners for cooperation, the event's organizers said.
The negotiation event held on Nov 4 in Chengdu saw the signing of five cooperation memorandums.
The scientific and technological bureau at Chengdu Hitech Industrial Development Zone signed an agreement with the National Research Council of Italy.
According to the agreement, the Italian organization will set up their representative office, the first one in China, in the Chengdu high-tech zone to promote innovation cooperation with small and medium-sized enterprises.
Two of the five memorandums will take effect within the cooperation framework of the Enterprise Europe Network, which has a presence in 54 countries and aims to provide SMEs with services involving technological innovation and trade support. The network set up its western China headquarters in Chengdu in 2011.
The negotiation activity attracted more than 150 enterprises from 14 European countries, as well as some 400 companies from Chengdu and other regions in Sichuan province.
The businesses covered fields ranging from energy conservation and environmental protection, new energy and materials, to mechanical manufacturing, agriculture and tourism.
A Polish company promoted its wind power-generating equipment at the event. Krzysztof Janowski, chief engineer of the company, said use of the equipment is not limited by geographical conditions and it can realize effective wind energy conversion even in areas that do not have strong wind force.
The engineer said the equipment drew attention from some Chinese electric power companies who said they want to cooperate with the Polish company and would discuss technological problems in the near future.
Many excellent companies from Chengdu Hi-tech Industrial Development Zone attracted European counterparts. Among them was Sichuan Methyrr Co, which deals with environmental protection-related science and technology.
Methyrr Co developed a process to turn straw and process them into a new material, of which straw composes more than 70 percent, for producing furniture.
The new material technology may help to reduce straw incineration and deforestation, the company's representative said.
A Russian company interested in the new material and its representative, Anton Kirillov, said that if the technology is exported to Russia, it will help to effectively use the country's abundant straw resources and export products to some regions in Central Asia that lack timber.
It would be a step toward realizing a multinational ecological and environmental protection system, the Russian representative said.
It is said that six European companies wanted to cooperate with the Chengdu-based material company and are expected to come to an agreement soon on how to transfer technology and cooperate.
In addition, at the EU-China fair's Europe-China Innovation and Entrepreneurship Cooperation Dialogue, also held on Nov 4 in Chengdu, representatives from technology incubators, investment organizations, scientific and technological parks and companies discussed topics such as how to foster SMEs and improve financing services.
A representative from the zone said the zone is integrating into the Belt and Road Initiative, which was proposed by President Xi Jinping in 2013.
The initiative aims to boost connectivity and trade across Asia, Europe and Africa.
The zone will help set up a technological transfer fund to promote Chinese and European companies' cooperation in capital, brand operations, market expansion, transnational technological transfer and project development.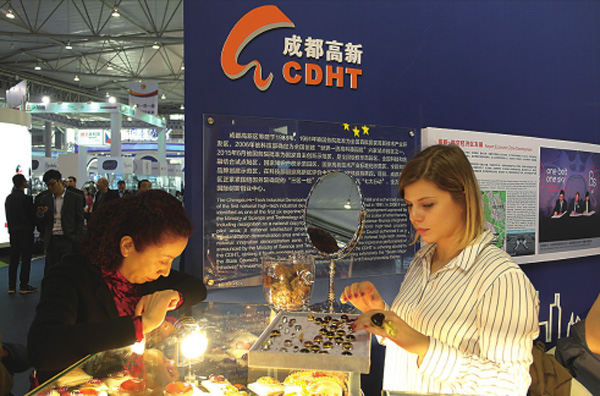 Visitors browse products at the pavilion of the European Union, a highlight during the fair. [Photo/China Daily]