EU-China fair bolsters intl relations
Hundreds of business and government officials come together to discuss expectations and deals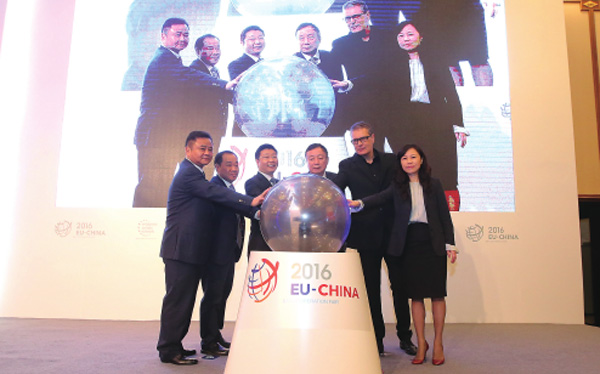 Chengdu Hi-tech Industrial Development Zone announces a deal with Sophia Antipolis, its sister park in France, to initiate a mentor program to boost business and investment opportunities. [Photo/China Daily]
The 11th EU-China Business and Technology Cooperation Fair aimed to promote communication and trade cooperation between China and European countries in fields such as science and technology, the event's organizers said.
The first phase of the fair, which took place from Nov 2-6 in Chengdu, focused on strategic emerging industries including new energy and materials, information and communication technology, modern agriculture and biological medicine.
More than 200 officials from 14 European countries including Germany, France, Italy, the UK and Russia, foreign envoys in China, international organizations and European companies attended the first phase.
Activities organized during the fair in Chengdu included the Theme Forum: the EU-China Cooperation on Green Economy Development, the EU-China Innovation and Entrepreneurship Cooperation Dialogue, promotional conferences for European tourism resources as well as a European technology and product exhibition.
Face-to-face and one-on-one business negotiations remained a distinctive and important event during the first phase of the fair, according to its organizers.
Nearly 500 people, including important representatives from the China Chamber of International Commerce, governments of Southwest China's Sichuan province and Chengdu, the province's capital, and high-ranking officials from Hungary, Finland and Italy attended the fair's opening ceremony on Nov 3.
Several EU member states showcased and promoted their products, technologies and projects in a convention and exhibition center in southern Chengdu.
European exhibitors told China Daily they believe Chengdu offers many opportunities for them to develop business.
Allaga Tamas, director at the Smart Region Innovation Cluster in Hungary, said: "I see a lot of good opportunities in Chengdu, which is very open to foreign innovation and technology."
The cluster represented its 25 members including small and medium-sized enterprises at fair. Allaga said he met with many companies at the event interested in the cluster's business and that he was hopeful about developing business in Chengdu.
Italian wine businessman Vito Lo Castro said Chengdu, where he founded a wine import company in 2013, is developing faster than many other regions in China and offers more space in which to develop business.