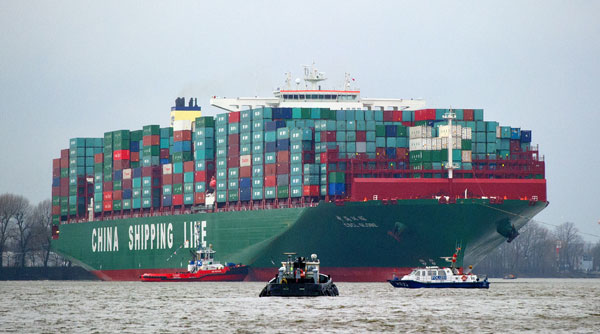 A giant cargo ship operated by the China Shipping Group arrives at the Port of Hamburg, Germany, during its maiden voyage on Jan 13. The vessel, launched in November 2014, can carry more than 19,000 containers and is the largest container ship in the world. [Photo/AFP]
The rapid rise of Chinese investment in Europe has renewed interest in Beijing setting up a high-level business council in Brussels, the European Union headquarters. This initiative was given the go-ahead by Vice-Premier Ma Kai during his recent his visit to Brussels.
Large-scale Chinese investment in Europe and elsewhere is a relatively new phenomenon. However, China's entry into World Trade Organization in 2001 opened a new page as Chinese companies were encouraged to look outward. Since the 2008/09 global financial and the EU sovereign debt crises that pace has quickened. Given China's growth prospects in the coming decades and the size of its population, its overseas investments are just beginning and will take years to peak.
Against such a background, Ma's announcement offers a way of better facilitating investment flows. To achieve that, Chinese businesses need to learn more about the economic policies of Brussels, whose status is second only to Washington in the West.
In Brussels, where the EU has its headquarters, many business chambers, think tanks, interest groups, lobbyists, journalists and international organizations also have their offices. And many of them use their voices to influence EU officials.
The business chambers have competed to become integrated into the EU decision-making process by promoting the interests of those they represent. That may be the starting point and fundamental purpose for China, which is considering setting up its own high-level business council in Brussels.
But even if Chinese representatives learn the EU way of doing business, a Chinese business council might adopt a different way of approaching its mission. The EU business chamber frequently publishes reports that are seen as pressuring China despite the fact that a majority of European investors have greatly benefited from China's economic miracle. Individually, European businesses will share their successful experiences in China, while the business council representing them might criticize China in its policy suggestions.
A Chinese business council in Brussels, once established, could avoid such an approach. It could act as a generator of opportunities and positive opinion leader. For example, it could publish a report every year as a guide to let Chinese investors know where the opportunities lie in the EU and make Europeans aware of the benefits Chinese investors have brought to Europe. This would help the two sides embrace each other.
Such messages are critical at a time when China's rising investments in Europe face more pressure, and EU decision-makers, in the name of strategic and regulatory considerations, have distanced themselves from business reality.
Recently, a Chinese high-speed railway executive said in Berlin that his company, the biggest in the sector in terms of revenues, will not use its competitiveness to grab share in Western Europe's established market and wants to work with European companies. The company has succeeded in winning bids in Europe. Besides, a German industrial design company for high-speed railways has credited China's exploration of overseas markets for raising high-speed railways on the global stage.
In the overall business landscape, harmonious contacts between China and the EU are more significant than policy conflicts. So apart from its annual report, the Chinese chamber, after its is established, should also focus on how the China-EU mega-projects can benefit both sides.
Most importantly, the proposed Chinese chamber should focus on the potential of new markets, as in matching up China's investments in Africa and elsewhere with European presence going back centuries. In this way, as an opportunity generator, China's proposed business council in Brussels will certainly look beyond Europe.
This is a project that will require a vision, a governance structure and capable hands.
The author is deputy chief of China Daily European Bureau.
fujing@chinadaily.com.cn