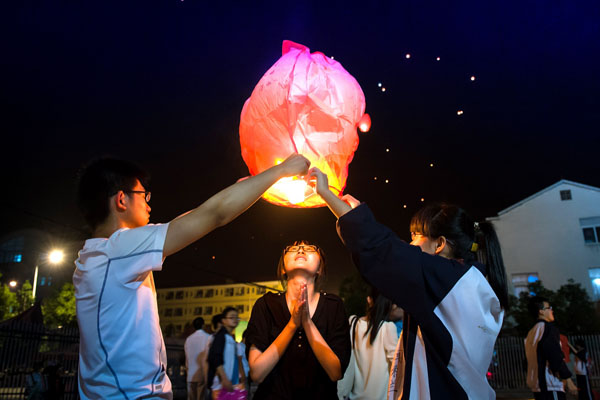 Students in Lu'an, Anhui province, release sky lanterns on Friday to pray for good luck in the national college entrance exam over the weekend. The lantern is also called Kongming lantern because the lantern was invented by Zhuge Liang, who was also named Kongming. Zhuge was known for his intelligence. [Photo/Xinhua]
High school student Fang Hongrui walked somberly over a 6-meter-long bridge to a statue of Confucius, the Chinese philosopher and educator, to pray for luck before he sits the national college entrance exam on Saturday.
Many believe that walking over the bridge, called the Zhuangyuan Bridge in the Confucian Temple in Beijing, will help them score high marks on a test. Zhuangyuan was the title given to the scholar with the highest score in the Imperial Exams, a system used in ancient China to select candidates for State positions.
Upon reaching the statue, the 19-year-old hung a small red plate on a fence at its base. In four golden characters, the plate reads "Du zhan ao tou", meaning, "To get the highest test score".
Quickly, the small plate nearly disappeared among thousands of others just like it.
Fang, who studies at Xiangyu Middle School in Beijing, believes the college entrance exam, or gaokao, will have a big impact on his future.
"I believe praying to Confucius can bring me good luck in the exam," he said. "Some of my classmates also came here to pray."
Fang has applied to an agricultural university in Beijing, but his gaokao scores will decide whether he will be admitted.
Over 9 million students will take the gaokao in China this year, 270,000 more than last year, according to the Ministry of Education. The exam starts on June 7 every year and usually lasts two days.
For tens of millions of high school students, getting high scores in the gaokao is the only way to get into a university. It marks the success of their previous 12 years of study and can help them secure a decent job in the future.
Although universities and colleges have increased enrollment in the past years, competition for a seat in a university, especially a good one, is still intense.
The temperatures in the capital rose to 34 C on Thursday, but the Confucius Temple in the old district was crowded with tourists, including many parents like Liu Xinhai taking their children to pray before the annual exams.
"It is just two days before the exam, and my son has studied as much as he could," said Liu, who brought his 17-year-old son to the temple.
"We just want to get some psychological comfort," he said, after he and his son each said a prayer at the statue.
Then he turned his back to his son and lowered his voice.
"Besides, my son has been busy reviewing books for quite a long time and getting nervous, I hope he can relax a little before taking the exam."
A staff member at the temple's Dacheng Hall said every year before the exams, the number of visitors soars.
"I'd say at least 100 people have come to pay tribute to Confucius every day in the past 10 days, and most of them are high school students and their parents," said Wang, who said she was not permitted to give her full name.
"(The rush of visitors) will last for quite a while. After the gaokao is over, many people who got a high score will come back to thank Confucius," Wang said.