More than 1,800 people nationwide signed an online letter to McDonald's Corp that calls for the fast-food chain to enhance security in its Chinese restaurants.
The petition, written in Mandarin and English, was created after the fatal beating of a 35-year-old woman in a McDonald's restaurant in Zhao-yuan, Shandong province, on May 28. Police say the assailants are members of a cult who attacked the woman after she refused to give them her cellphone number.
The incident triggered national outrage after a video of the beating went viral online.
The open letter to the fast-food chain's United States headquarters and its Chinese subsidiary was signed by 1,843 people in 29 provincial areas.
The letter questioned security at the restaurant chain's outlets and called for McDonald's to enhance its security measures in China. "We are shocked and angry about this news. We want you to consider these questions: whether your company has security procedures to ensure customers' safety, and whether your company has conducted violence management training for your employees," the letter said.
McDonald's China said in its official micro blog that one employee of the McDonald's outlet in Zhaoyuan was injured while trying to intervene, and that the restaurant reported the case to police immediately after the attack.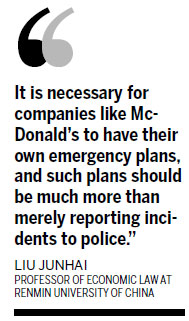 The incident still haunts many of regular consumers of McDonald's, and the restaurant chain's response failed to appease them.
"Usually when I was asked for a cellphone number at a restaurant from a boy, I would think twice before giving it. Now I will think that I am facing a threat to my life, and I will give it without a second thought," said Liang Xiaowen, a college student and a signatory of the letter.
Many of those who helped write the letter are feminists who are concerned about the safety of women in public places.
"McDonald's as a service provider and business in many public places globally should have a basic and applicable emergency plan to handle violence, including safety procedures, plans and training of staff," said Zhao Sile, a feminist campaigner who helped launch the petition.
A public relations manager with McDonald's China declined a request for comment on Wednesday.
Experts said the petition has a legal basis. According to the country's newly revised consumer rights law, enacted on March 15, businesses, including restaurants, are legally liable for the safety of consumers.
"The guaranteeing of consumer safety is particularly important if a restaurant has a large number of consumers," said Liu Junhai, a professor of economic law at Renmin University of China.
"It is necessary for companies like McDonald's to have their own emergency plans, and such plans should be much more than merely reporting incidents to police. It should include how to react properly," he said.
xuwei@chinadaily.com.cn