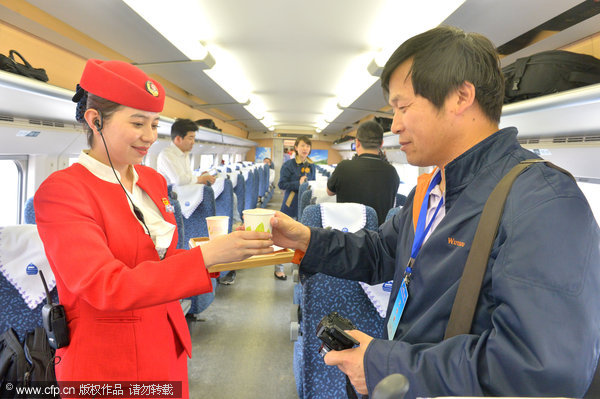 A Uygur ethnic train conductor gives a passenger a cup of water during a trial run of a high-speed train linking Northwest China's Lanzhou, capital of Gansu province and Urumqi, capital of Xinjiang Uygur autonomous region, on Jun 3, 2014. The 1,776km-long railway expected to officially operate at the end of the year will be the first high-speed railway in Xinjiang. [Photo/CFP]
The Xinjiang section of the Lanzhou-Xinjiang Railway began its system integration test on Tuesday, moving closer to commercial operation which is anticipated at the end of this year.
The 1,776km railway, linking Lanzhou city, capital of Gansu province and Urumqi, capital of Xinjiang Uygur autonomous region, will be the first high-speed railway in Xinjiang.
Top speed will be 250 km/h said Liu Xinle, director of the construction management office at the Urumqi Railway Bureau. During tests the train will run at 275km/h, 10 percent higher, according to Liu.
Travel time between the Urumqi and Lanzhou will be reduced from the current 20 hours to eight. "That will boost Xinjiang's tourism and logsitics industries," said Lai Xin, a high-level official of the region's development and reform commission.
"Such a high-speed railway will cut the costs of most Xinjiang-bound tourists who currently choose to take a flight to Xinjiang and save a lot of time for train travelers," said Li Wenqing, an official of the region's tourism promotion. "We will certainly see a big increase of tourists after the high-speed railway operating.."
The biggest challenge in taking a high-speed train to the region was how to cope with strong winds which are normal in Xinjiang. The railway passes through four major wind areas.
A wind break has been built along with the track, providing a 463 km protection wall, covering 65 percent of the total length of the Xinjiang section.
Meanwhile, the track has been raised by five centimeters to allow sand blown by wind to pass under the track more easily.
The Urumqi Railway Bureau has completed the training of its first crews who have been selected from existing crews and sent to receive schooling provided by high-speed train operators.
Among them, Adi Tuerdi will become the first Uygur high-speed train driver in Xinjiang. "I feel quite proud about that and also heavy responsibility," said the 34-year-old. The driver has had to master every new skill precisely and perfectly, as he is one of the first high-speed train drivers who will act as tutor for his fellows.
Once the railway goes into commercial operation, it will increase China's freight capacity to central Asia and Europe, said Erkin Tuniyaz, vice-chairman of the Xinjiang government, laying a solid foundation for the construction of the Silk Road Zone.
"I will take my child to experience the high-speed trains after the railway is put into use," said Adi Tuerdi.