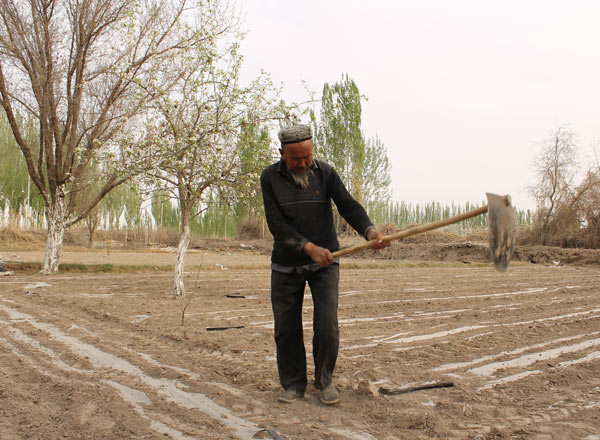 A farmer digs in a field in Shaya county, Aksu prefecture, one of the main areas for the cultivation of cotton in Xinjiang Uygur autonomous region. GAO BO / CHINA DAILY 
Expansion plan envisages work for 1 million employees by 2020, reports Cui Jia in Aksu.
Tajigul Arken was taking three new recruits on a tour of a textile factory on the outskirts of Aksu, a city in the south of the Xinjiang Uygur autonomous region.
As she entered the plant, she raised her voice to be heard above the din. Speaking in the Uygur language, the 27-year-old patiently explained the functions of the machines to the curious newcomers, three women from different villages in Aksu prefecture.
More than 95 percent of the workers on the factory's production lines are from the Uygur ethnic group.
Tajigul works as a recruitment manager for Huafu Top Dyed Melange Yarn Co in Aksu. The company employs more than 1,500 people in Xinjiang, but its headquarters are in Shenzhen in Guangdong province.
Because more than 60 percent of China's commercial cotton is grown in Xinjiang and Aksu is one of the major cultivation areas, Huafu established a plant in the city in 2010 to produce dyed yarn.
On Monday, President Xi Jinping said the fight against terrorism and the forces of religious extremism in Xinjiang must become a top priority. Part of the strategy relies on the creation of more jobs, a move seen as crucial to regional security.
The central government hopes that attracting more labor-intensive textile manufacturers to Xinjiang will create a greater number of employment opportunities for local people. A plan has been drafted to expand the industry and raise its employment capacity to 1 million people by 2020 from the current 200,000. Xinjiang has a population of more than 22 million and 46 percent of the people are Uygur.
Yu Zhengsheng, a member of the Politburo's Standing Committee and the leader of the government's coordinating group for Xinjiang affairs, said that the development of labor-intensive industries should be given priority because it could help to bolster employment levels in southern Xinjiang.
High staff turnover
"I have to introduce new girls to the factory almost every day because workers are always leaving. Some people are just not used to the fast pace and tight schedule of factory life," said Tajigul, who graduated from a university in Urumqi with a major in finance.
She pointed to a white board that hung at the entrance to one of the production lines and explained that it bore the names of eight workers who had forfeited their wages from the previous month because they left their jobs without giving notice.
One of the new employees, Gulbuli Abdulrezak age 29, followed Tajigul closely because she was worried she might get lost in such a big plant. The recently divorced mother of one desperately needed a job to support her child. As such, she was relieved when a friend told her that Huafu is always recruiting and gave her Tajigul's phone number.
One of the other new recruits, Pam Ahat, had never left her village in Wushi county before. She regarded the new experience as an adventure and was excited about working at the factory. "I want to see the dormitories," the 27-year-old told Tajigul. Pam comes from a large family, but the small amount of farmland it owns isn't enough for them to get by without external income.
"The village officials have offered me the opportunity to work in factories in other provinces, so I could provide extra income for the family, but my father didn't want me to travel too far. Now there is a factory near my home. I've heard that the dormitories are like posh hotel rooms," she said.
When Tajigul introduced the women to Alaxiamu Hudadibai, one of the line managers, they giggled with embarrassment because he was the first man they'd met during the tour.
Alaxiamu, who has worked at the factory for two years, has just been promoted. "I started off picking dirt out of the cotton and now I'm in charge of 30 workers," he said proudly.
As a line manager, Alaxiamu makes 3,500 yuan ($560) a month, while the monthly starting wage for new workers is 1,800 yuan. "Sometimes they (the workers) don't understand why everything must be put in the assigned, clearly marked areas when the factory floor has so much empty space," he said when asked about the challenges he faces as a member of the management team.
Wu Xinhua, the manager of the factory's general affairs department, said Alaxiamu's promotion was partly a result of his fine work record and initiative, and partly the result of pragmatism. "The company finds that promoting Uygur workers to manage other Uygurs is very efficient because they speak the same language and understand each other well." In addition to employing people from Aksu, the company also recruits from nearby Kashgar prefecture and Kizilsu Kirghiz autonomous prefecture.
Huafu has also established a training academy next to the factory. Every worker undergoes training before being assigned a job, but sometimes cultural differences can be problematic.
"One of the main headaches is that many workers don't stay very long. They only come to the factory when they need cash and they leave as soon as they receive the first month's wages. They leave, but then come back when they've spent all their wages," Wu said. "Unlike workers in Huafu's factories in other parts of China, the locals still believe work is something very casual and don't take their contracts seriously."