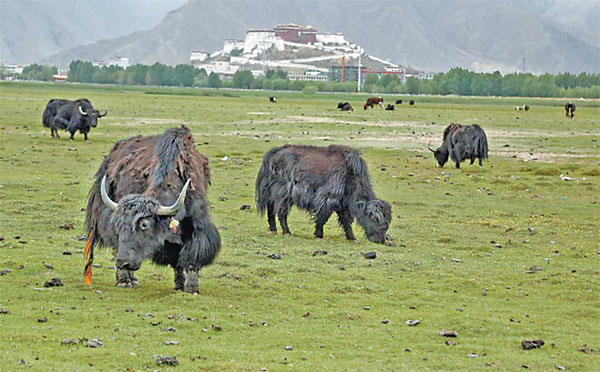 Yaks dot the scenery in the Lhalu Wetland Conservation area in Lhasa, Tibet autonomous region. Hu Yongqi / China Daily

Forestry officials from the Tibet autonomous region said on Wednesday that there are more than 38,000 wetlands within its boundaries covering an area of 6.52 million hectares, making it the second-largest swath of wetlands in China.
The wetlands survey began in January 2010 as part of the country's campaign to collect information on and strengthen protection of wetlands, said Buchung, deputy director of the Forestry Department of the Tibet autonomous region.
The Sanjiang Plain Nature Reserve in Heilongjiang province contains the nation's largest area of wetlands at more than 10 million hectares.
The department discovered 524,000 more hectares of wetlands in the region than were listed in the previous survey. About 99 percent of the newly found wetlands were formed through a rare mixture of human intervention and exploitation, Buchung said.
Among six prefectures and the capital Lhasa, Nagchu prefecture has the largest amount of wetlands at 2.99 million hectares, while Ali prefecture in northwest Tibet has more than 2 million hectares, according to the department.
In 2009, a wetlands management office was established under the Forestry Department and the regional government created a series of regulations to better govern the sector.
By the end of May, about 66 percent of the wetlands - 43 million hectares - in Tibet were placed under conservation, with 13 of them listed as national key wetlands, said Buchung. Thus far, 23 projects costing 347 million yuan ($56 million) have been carried out to protect and recover wetlands.
At the Lhalu Wetland Conservation area in Lhasa, which has been fenced off for protection, Sangpa, a 37-year-old herder, said the water in the wetlands reflects Potala Palace like a mirror during the day.
On Wednesday, yaks were grazing on the conservation. Except for a limited number of yaks during the dry season, no one is allowed to enter the land, Buchung said.
He also said there is still struggle between economic growth and protection of the wetlands.
"Public consciousness of wetlands protection must be enhanced, while more funds are needed to shelter the wetlands from damage," he said. "A better coordination mechanism should be established."
Zongga, another deputy director at the Forestry Department, said further communication and cooperation with research institutes should be strengthened to protect and manage the wetlands.
By 2020, Tibet is required to preserve at least 6.5 million hectares of wetland, said Zongga.
"No matter what happens, that is our last stand," he said.