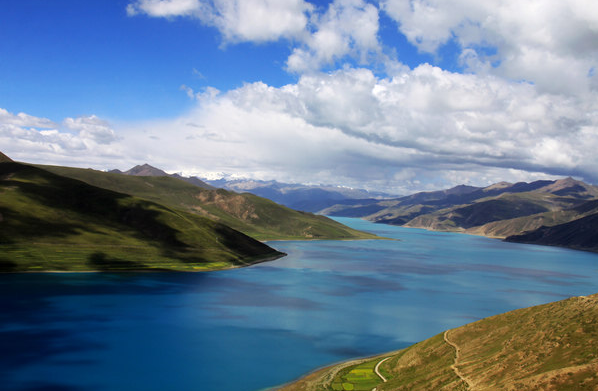 A view of Yamdrok Tso Lake in the Tiebt autonomous region. [Photo/chinadaily.com.cn]
Tourism increased in the Tibet autonomous region in the first four months of the year, as the region aspires to become a world-class travel destination.
The region had more than 830,000 tourists from January through April, a year-on-year increase of 23.4 percent, the regional tourism bureau said on Tuesday.
Foreign tourists numbered 20,000, an increase of 10.3 percent, and the number of domestic tourists was 810,000, an increase of 23.8 percent.
Meanwhile, the revenue generated by the tourism industry was 926 million yuan ($148.4 million), an increase of 26.2 percent, it said.
Karral Millar, 62, an Australian tourist, said she had a good time in Tibet.
"It's wonderful. It's been three days now. We have visited the Potala Palace and many temples, and we are learning new things about Tibetan Buddhism and history," Millar said on Tuesday.
Cycling has become a popular way to tour the region in recent years, as many tourists want to have close contact with the natural scenery and culture of Tibet.
"It's my second time in Tibet. I am absolutely impressed with the natural scenery and unique culture. I feel as if I am at home here," said Liu Xiaojun, from Hebei province.
"I am also overwhelmed with the hospitality and politeness of the local people," said Liu, adding that he plans to make a bicycle tour to Zhangmu Port in Tibet's Xigaze prefecture.
Many businesses near the scenic spots in Lhasa see the coming of summer peak season as a harvest.
"Compared with the same period last year, we had more guests this year. We have 62 rooms, and more than half are booked every day," said India, 41, a receptionist at the Kyichu Hotel, a Nepalese hotel in Lhasa.
Tibet received more than 12 million tourists from home and abroad lastar.
The region hopes to have 15 million tourists this year.
Contact the writer at palden_nyima@chinadaily.com.cn