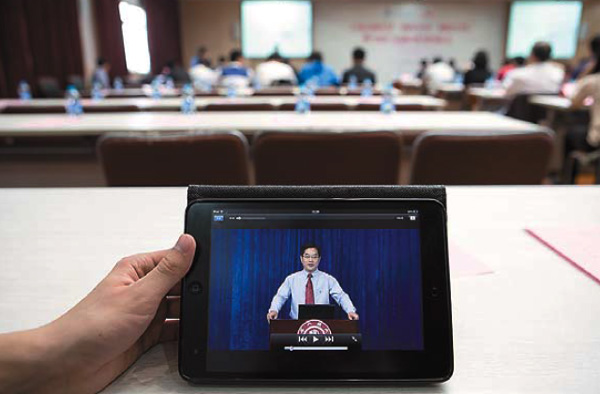 A student from Shanghai Jiaotong University watches a video lecture from an online education platform called "Nanyang Academy" via his iPad in April. The university currently offers lectures for 42 courses on its website - more than 1,000 hours of instruction. Provided to China Daily
When Zhang Yang went on maternity leave last April, she also signed up for an online learning course.
While looking after her 1-year-old takes up most of her time now, Zhang is happy to continue her online classes in art history with Peking University.
"I've found the course quite fascinating as I also took the subject in college," she said. "Plus, class discussions can be quite interesting because sometimes you discuss the topics with people from different parts of the world."
Massive Open Online Courses - which involve widespread participation and open access through the Internet - were initiated in the West. However, users in China now form one of the largest student groups.
On April 29, 2014, the Ministry of Education set up its xuetangX.com online education center under Tsinghua University. This online course platform is based on edX, which was jointly established by Harvard University and the Massachusetts Institute of Technology in 2012.
Tsinghua University started to work with and provide courses to edX in May 2013, and launched its first series of online courses in October. So far, the university has provided 25 online courses, first through its own website and now through xuetangX.com. The platform has more than 120, 000 registered users.
"At first we started edX as a completely free online courses platform as we aim to promote free and good quality education for all to promote education equality," said Kathy Pugh, vice-president of edX. The platform now has 2.2 million learners worldwide. About 60,000 of them are from China.
Pugh said edX started to offer courses that require tuition fees in September 2013. Now, about 2 to 7 percent of its clients pay for courses through edX.
"We believe that there is a market for people who study for a verified certificate and are willing to pay for it, ranging from $25 to $250," Pugh said. "Students who take the for-fee option clearly have better expectations and want to get more hands-on experience."
Liu Wenbo, general manager of MOOC-CN Information Technology Ltd, the company that produces xuetangX.com, believes many more people are willing to pay for MOOC courses and certification.
"The percentage from the edX statistics is low because it costs people nothing to register a course on edX. Personally, I think if you ask those who keep an eye on particular courses, I believe more than half of them would be willing to pay for a certificate. The tuition doesn't cost much after all," Liu said.
The company started to run xuetangX.com in cooperation with Tsinghua University in October 2013. Liu said that the company had not considered profit at that time.
"But now we are considering this, because we've done certain market research and there is a market for universities in China," he said.
Liu said one way of making such profits is to rent certain courses to universities in China that are willing to open particular courses but are not fully prepared to offer them in traditional classrooms.
"There is a large demand for this coming from second-tier universities," he said.
The MOOC platform started getting popular in China less than three years ago but Liu believes MOOC certificates will particularly benefit those who learn "emerging" subjects such as Internet finance.
"Such subjects are emerging and it takes a long time for traditional classrooms to grant a certificate like this," Liu said.
"So we can do it in cyberspace."
Contact the writer at zhangyue@chinadaily.com.cn