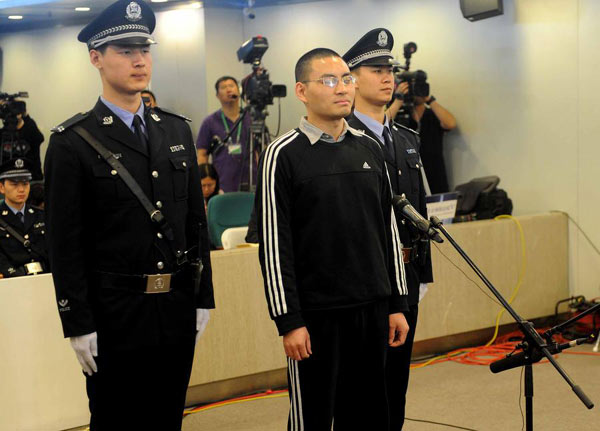 Qin Zhihui, escorted by two police officers, in a court in Beijing on April 17, 2014. [Photo/Xinhua]
Beijing Chaoyang District People's Court sentenced Qin Zhihui, better known by his online alias, Qin Huohuo, to three years in jail for defamation and causing trouble on Thursday.
He had been accused of spreading rumors on the internet to damage the reputation of celebrities, and also causing public disorder.
Qin, 30, a native of Hunan province, said after the verdict was announced that he will not appeal to the higher court.
He pleaded guilty to fabricating stories on microblogs between 2011 and 2013, with the aim of attracting the attention of the general public.
Qin posted a comment in August 2011 saying that the government had paid more than 200 million yuan ($32.7 million) in compensation to a foreign national who died in a high-speed train accident in Wenzhou, Zhejiang province, a month earlier. This was a fabrication.
He also confessed that he posted comments on microblogs to slander Chinese popular television hostess Yang Lan as well as China Disabled Persons' Federation president Zhang Haidi.
Qin's mother, who was seen crying at his trial, was absent when the verdict was announced.
China launched a crackdown last year against organizations posting online rumors, and Qin is the first person to be convicted for libelous posts since the start of the campaign.
His lawyer said after the announcement that she respects the verdict.