China will not initiate trouble, but it will never compromise on territory, Hagel is told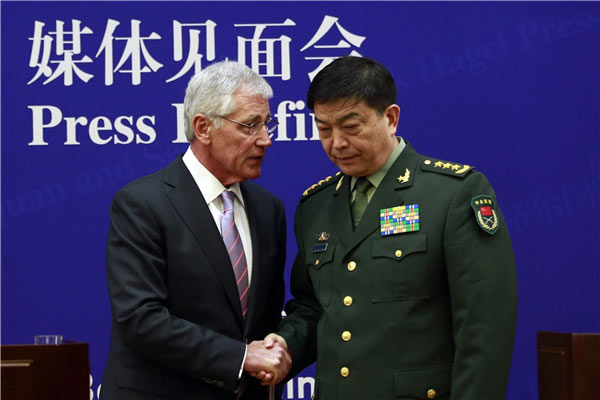 Minister of Defense Chang Wanquan chats with US Secretary of Defense Chuck Hagel during a news conference at the Ministry of National Defense headquarters in Beijing on Tuesday. FENG YONGBIN / CHINA DAILY
Beijing warned Washington on Tuesday to "stay vigilant" about Japan and not to be "permissive or supportive" of Tokyo's provocations as Chinese and US defense chiefs vowed wider cooperation in the Asia-Pacific region.
In a "candid, constructive and productive" discussion, Defense Minister Chang Wanquan told visiting US Defense Secretary Chuck Hagel that the US should respect China's core interests as Washington is implementing a pivot strategy to the region.
Chang asked the United States to keep Japan "within bounds" and criticized the government of Japanese Prime Minister Shinzo Abe.
"It is Japan who is being provocative toward China," Chang said at a news conference after talks with Hagel.
"If you come to the conclusion that China is going to resort to force against Japan, that is wrong."
Hagel, meanwhile, struck a belligerent tone at the news briefing by claiming that China did not have the right to establish an Air Defense Identification Zone in the airspace over China's Diaoyu Islands without consulting other countries.
He also said that the US will protect Japan under treaty obligations.
Chang said that China "will not take the initiative to stir up trouble" with Japan, but it would use military force, if necessary, to defend its territory.
"We will not compromise, nor concede, nor trade on territory and sovereignty. We will not tolerate these being infringed upon, even the least bit," he said.
He said that remarks and provocation from the Abe administration have caused severe difficulties for China-Japan relations.
He also said that the Philippines has illegally occupied parts of China's islands and reefs in the South China Sea and "disguised itself as a victim".
However, the defense chiefs also mentioned areas of broad agreement, including the willingness to build a new model of military-to-military relations, a consensus reached by President Xi Jinping and his US counterpart Barack Obama.
China and the US will work to establish mutual notification of major military activities and standards of behavior for air and naval military safety on the high seas.
On greater military-to-military communication, new formal procedures will allow armies to better communicate with each other, and an Asia-Pacific Security Dialogue, involving high-ranking defense officials from both countries, will also be established.
China and the US will conduct a joint military medical exercise after the Pacific Rim military exercise led by the US later this year.
Observers said growing cooperation mixed with harsh criticism reflects the current condition of China and US military ties.
Zhao Xiaozhuo, deputy director of the center on China-US defense relations at the PLA Academy of Military Science, said Washington is stuck in a security dilemma in the Asia-Pacific region since it is pursuing balance between China and Japan.from page 1
"For example, the US perceives the security alliance with Japan and other Asian countries as the cornerstone of its rebalancing strategy, but China sees it as a barrier for development," Zhao said.
"As the two countries seek to build a new type of military relations focusing on common interests, the strategic suspicion and the latent contradictions will become more acute," he said.
Zhu Chenghu, dean of the Defense Affairs Institute at the National Defense University of the People's Liberation Army, said military-to-military ties between Beijing and Washington lag far behind the development of other aspects of bilateral relations, but both countries have shown sincerity to expand cooperation.
"Hagel's criticism of China to pacify US allies is one thing, whether the US will take action to sabotage the burgeoning China-US cooperation is another thing," Zhu said.
On his first visit to China as a US defense chief, Hagel reaffirmed that the US welcomed the rise of a stable, peaceful and prosperous China.
Hagel said China-US relations are essential to peace and prosperity in this century and his focus is on how to develop the new model of military-to-military relations.
"My tour to the aircraft carrier, the Liaoning, yesterday was a good beginning because it represented an effort that we are both striving to do more on, which is the openness and transparency," he said.
On Monday, Hagel became the first foreign visitor to board the aircraft carrier in Qingdao, Shandong province. He is also scheduled to visit a non-commissioned officers school in a Beijing suburb on Wednesday.
"Our vision is a future where our militaries can work closely together on a range of challenges, such as humanitarian assistance and disaster relief missions. However, to reach this objective, we must be candid about issues where we disagree," Hagel said.
Both defense chiefs agreed that international terrorism was a common challenge to peace and stability, and they agreed greater cooperation was the way forward.
Days before his trip to China, Hagel reaffirmed Washington's military treaty commitments to Japan and promised to send two more ballistic missile defense destroyers to the country by 2017.
In an interview with Japan's Nikkei newspaper on Saturday, Hagel criticized China's Air Defense Identification Zone over the East China Sea as provocative and unilateral.
On Tuesday afternoon, Fan Changlong, vice-chairman of the Central Military Commission, criticized Hagel's remarks as "tough, and with a clear attitude".
"I can tell you, frankly, ... the Chinese people, including myself, are dissatisfied with such remarks," Fan told Hagel at the presence of the press.
Xinhua and AP contributed to this story.