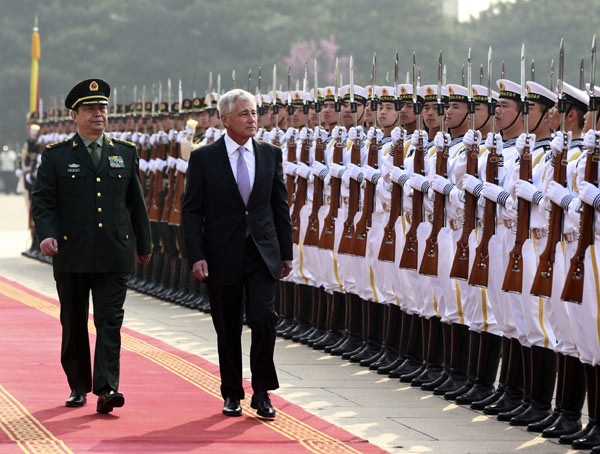 Chinese State Councilor and Defense Minister Chang Wanquan (L) and US Defense Secretary Chuck Hagel inspect the guard of honor during a welcoming ceremony held for Hagel in Beijing on Monday. [Photo by Feng Yongbin/Asianewsphoto]
BEIJING - China will not compromise on issues regarding territory and sovereignty, Defense Minister Chang Wanquan said on Tuesday after he held talks with visiting US Defense Secretary Chuck Hagel.
"China's stance on the East Sea and the South Sea is consistent and clear," Chang, also a state councilor, told reporters as he and Hagel held a joint press briefing. As a guest of Chang, Hagel arrived in China on Monday for a four-day visit.
"China has indisputable sovereignty over the Diaoyu Islands, the Nansha Islands and their surrounding seas," Chang said, adding that China hopes to appropriately resolve disputes through negotiations and consultations with countries directly concerned.
He reiterated that territory and sovereignty are among China's core interests.
"We will neither compromise on, concede or trade on territory and sovereignty, nor tolerate them being infringed on even a little bit," the defense minister said.
China's armed forces shoulder the mission of safeguarding the security of sovereignty and the integrity of territory, always ready to address all kinds of threats and challenges, according to Chang.
"The armed forces are ready to assemble at the first call and are capable of fighting and winning," he warned.