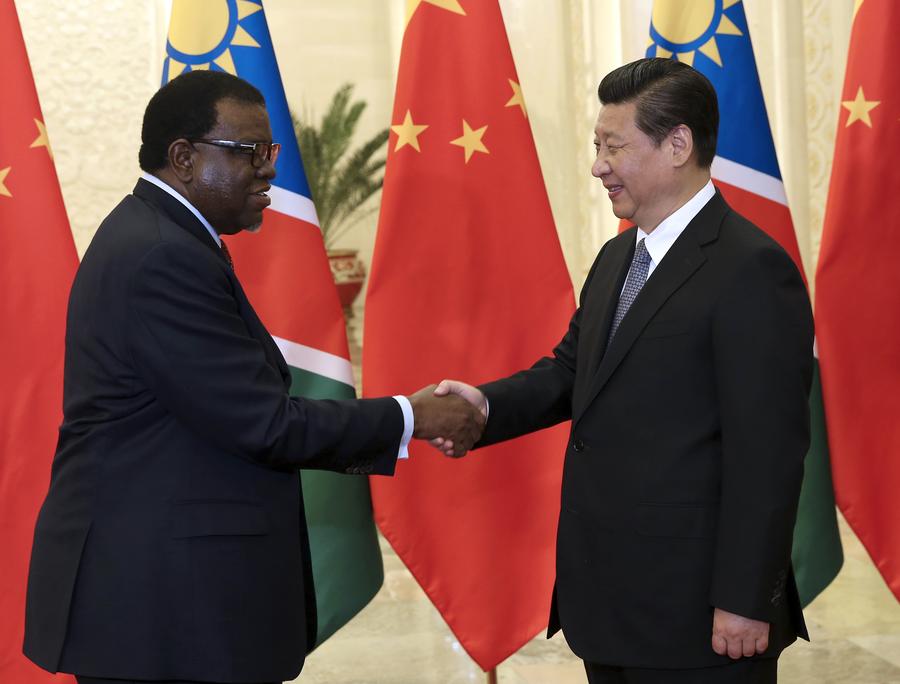 Chinese President Xi Jinping (R) meets with Namibian Prime Minister Hage Geingob in Beijing, capital of China, April 8, 2014. [Photo/Xinhua]
BEIJING
 - Chinese President
Xi Jinping
met with visiting Namibian Prime Minister Hage Geingob on Tuesday, and the two leaders pledged to boost cooperation between the two countries.
Hailing Namibia as an "all-weather friend" of China in Africa, Xi said the two sides should "carry forward the undertakings of the predecessors and open up a new road for the future" to elevate the bilateral relationship to a new height.
The two sides should enhance political interactions and continue to back each other on major issues, Xi said. Xi added that the Chinese government supports capable and credible enterprises to cooperate with partners in Namibia in mining, agriculture, infrastructure, manufacturing and other sectors, especially on large-scale projects.
Applauding China's long-lasting support of Namibia, Geingob said the Namibian side looks forward to closer friendly cooperation with China in Namibia's drive for development.
The Namibian side will create a favorable environment for Chinese investment, said the prime minister.
Xi said Africa is undergoing a period of "economic take-off" and he is confident in the continent's development.
It is an important cornerstone of China's foreign policy to unite with African countries, Xi said, and this "will not change with China's development and the elevation of China's status in the world."
Xi said China upholds a correct view on morality and interests in its cooperation with Africa and will continue to help African countries to strengthen their capabilities in self-driven development.
Geingob said China has been sincerely assisting Africa, adding that the Namibian side stands ready to make more contributions to the development of the Africa-China relationship.