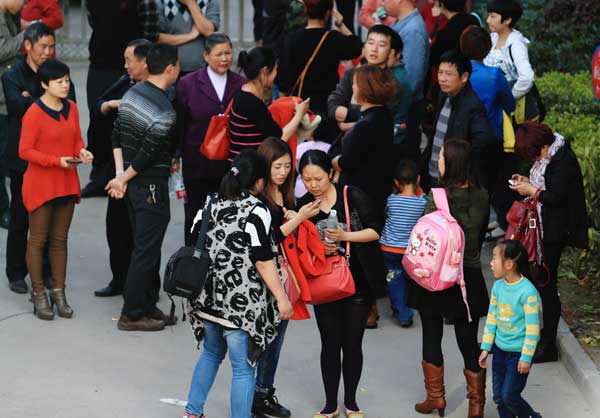 Parents at the Xingang Kindergarten in Yichang, Hubei province, discuss on Monday the recent scandals in China that schools were administering medicine to students without informing parents. The Xingang Kindergarten was one of four that forced children to take a prescription drug. He Xiaogang / for China Daily
More cases of medicines being administered illegally to preschoolers in China are emerging, as the crisis of confidence in kindergarten managers expands.
The Ministry of Education and the National Health and Family Planning Commission issued a notice on Tuesday requiring that kindergartens and primary and middle schools follow certain regulations when they provide medicine to children and students collectively to prevent common diseases.
The notice said there are five conditions that the kindergartens and schools must meet before giving medicine to large numbers of children.
The five conditions are: Medical experts must think it is necessary for students to take the medicine collectively; health and education authorities from the city or higher should come up with a detailed treatment plan; students and their parents should be informed and they must agree that the students will be taking the medicine; doctors should be on the scene to instruct students how to take the medicine; and the medicine should be purchased from good pharmaceutical enterprises.
The notice was released after a series of news reports revealed that four kindergartens - two in Shaanxi province, one in Jilin province and another in Hubei province - forced children to take moroxydine, a prescribed drug that fights the flu virus, without informing the parents. Some children felt sick after taking the drug.
The notice said the cases are under investigation and the people involved will be punished.
The notice also mentioned that education and health departments from across the country will carry out inspections of kindergartens and primary and middle schools to see whether there are cases of forcing students to take medicine without permission.
One of the concerned parents from Hubei, who refused to be named, said teachers had asked kids to take "bitter-tasting white tablets" every time the weather changed. Some children have complained of leg pains, nose bleeds, itching and genital inflammation. According to the investigation, kids were fed antiviral drugs to boost their immune systems and guarantee attendance, which is directly linked to school revenue.
Parents are concerned about both the physical and mental well-being of their children, and dissatisfaction is running high with a preschool system dominated by private kindergartens that are poorly funded, poorly managed and frequently in a bad state of repair.
"Teachers told my child the pill was good for him but should be kept secret. They have been taking it for nearly three years," said Zhang, a parent from Shaanxi province.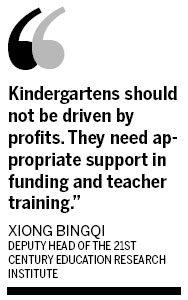 Yu Feng, of China Pharmaceutical University, said there is no direct evidence to link moroxydine ABOB, the antiviral drug in question, with retarded growth and development, but children are more susceptible to side effects caused by medicines than adults. Some parents are concerned about the children's mental health. Many children have been forced by their parents to attend protests outside schools and government buildings.
"They are just kids and do not understand what has happened. I do not think it is wise to involve them in the dispute and show them the evils of society so early," a parent surnamed Xie said.
"How a society treats the elderly reflects how civilized it is, and how we treat our kids decides the future," said Xia Xueluan, a sociologist at Peking University. Physical harm, fear and insecurity suffered in childhood influence health and personality in the future, Xia added.
With poor infrastructure, unqualified teachers and shortcuts on safety, many private kindergartens are nothing more than sources of profit for their owners and wholly neglect their fundamental function as educational institutions, said Yuan Xu, head of Guangxi College for Preschool Education.
Official statistics show that Guangxi has 7,554 kindergartens, 6,900 of which are private. Of these, more than 4,000 are operating without licenses.
The number of unlicensed private kindergartens seems to be a direct result of a lack of alternatives in preschool education. "The authorities did not expect so many preschool children decades ago. They failed to make a long-term plan for expansion of kindergartens," said Xiong Bingqi, deputy head of the 21st Century Education Research Institute.
"Kindergartens should not be driven by profits. They need appropriate support in funding and teacher training," Xiong said.