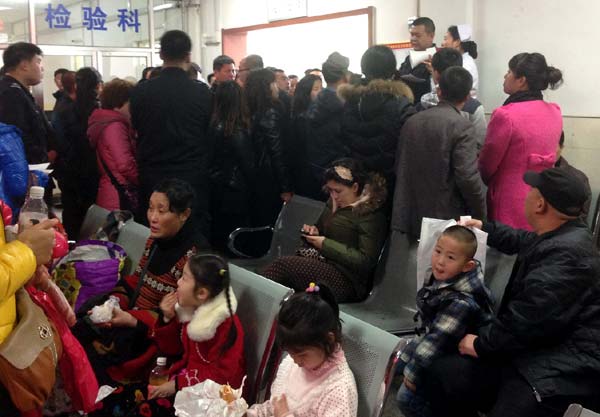 Parents of Fanglin Kindergarten students in Jilin, Jilin province, take their children to a hospital for a health examination on Saturday. An investigation found the kindergarten had given some students the prescription medicine moroxydine ABOB to prevent them from catching colds and other infectious diseases. Zhang Nan / Xinhua
A dozen lawyers are calling for specific and detailed regulations to protect kindergarten children from unauthorized medicine.
"No rule about medicine in kindergartens exists under current regulations," said Huang Yizhi, a lawyer in Beijing.
Hongji Xincheng and Fengyun kindergartens in Xi'an, Shaanxi province, are accused of having administered antiviral drugs to children since 2008, local authorities said on Thursday. The two kindergartens, which had a combined 1,455 students this school year, were shut down on Friday by the Xi'an government. Five staff members have been detained.
A third kindergarten was closed on Saturday in Jilin province, also on allegations of medicating children, and its head was detained on Sunday.
The latest State-level regulation governing hygiene at kindergartens and day care centers does not prohibit giving unauthorized prescription medicine to children, Huang said. "It is a blind area in the law since a case like this was never exposed before."
The regulation was released in 2010 by the Ministry of Education and the then ministry of health.
In addition, some other possible crimes are not covered, such as sexual harassment of a child, she said.
Huang and 11 other female lawyers from seven provinces said on Friday that they will provide free legal consulting to parents whose children were given unauthorized prescription medicine in the kindergartens.
"We are mothers and lawyers. We care about our children and hope to make some efforts to make the child-care market better," Huang said.
Huang said that while the Shaanxi education and health departments issued an emergency order banning the unauthorized administration of prescription medicines after the incidents came to light last week, more detailed language should be written into State-level laws and regulations.
Huang said it is not certain whether the detained staff members will face criminal or civil complaints.
"It depends on the number of children involved and the level of harm," she said.
Li Jing, the deputy head of the Sunny High Scope Kindergarten, a private kindergarten in Beijing, said she strongly supports the proposal to amend the regulations.
"Although their actions were wrong, there is no ban based on law. In other words, it's not illegal for an immoral kindergarten to give children unauthorized medications," Li said, adding that strict, specific regulations will lift the quality of kindergarten management.
Li said the child care service market is chaotic, citing last week's revelation that a kindergarten may promise to refund tuition fees when a child is not in attendance because of illness, but then administer medication designed to keep kids at school.
Given the lack of detailed rules, operators run kindergartens according to their own conscience, Li said.
Liu Wei, a lawyer from Henan province, one of the group of 12, is working on the case in Xi'an.
"The medication, which claims to treat flu, has not gone through clinical trials with children and may be harmful over the long term," Liu said, adding that she expects the current case to bring meaningful change.
In all, three kindergartens were closed last week on allegations of giving children unauthorized anti-viral drugs. The latest, in Jilin province, was shut down on Saturday afternoon.
According to Jilin's provincial education bureau, the Fanglin Kindergarten gave some children the prescription medicine moroxydine ABOB without informing parents, to prevent kids from catching a cold or other disease.
The kindergarten's business license was suspended on Saturday, the local education bureau said, and its head was detained on Sunday, according to China News Service.
Xinhua News Agency reported that some of the children who were given medication showed symptoms like leg pains, nosebleeds, itchy skin and inflammation in the genital area. The authorities arranged for physical examinations.
As of Saturday afternoon, all of the 114 children were reported to be in stable condition and have been discharged from the hospital.
Fanglin Kindergarten has four branches in Jilin city and more than 320 children. Local police have expanded their investigation to the other three branches, authorities said.
Local education officials are arranging for affected children to transfer to other kindergartens.
Xinhua contributed tothis story.