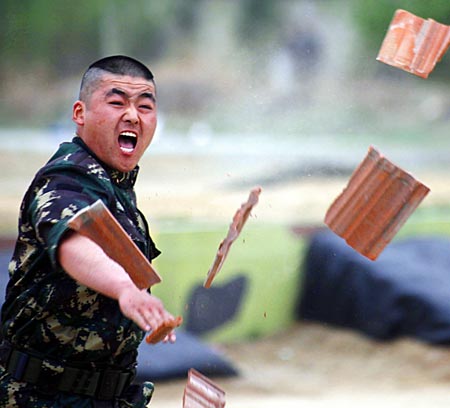 A People's Liberation Army soldier chops through a block of wood during a military drill. Zhang Guangquan / Xinhua 
An elite force of the People's Liberation Army has recently abolished its iconic stunts including smashing bricks over soldiers' heads and breaking wooden clubs on their backs, arousing debate from the public.
The special warfare brigade from the Beijing Military Command has received a host of honors for its well-known stunts, which were popular among its soldiers. However, the brigade's commanders have concluded that such performances do not improve soldiers' combat capabilities, according to a report by the PLA Daily, the official newspaper of the Chinese military.
"Combat in a real battlefield is not a performance," the report quoted brigade commander Zhang Aijun as saying. "Our troops must be trained based on real war situations and spend all of our time exercising practical skills."
Zhang said commanders have decided that training must focus on combat-related operations. They have removed more than 10 stunts from the brigade's training routine, even though some officers and soldiers oppose the move and regard the stunts as "time-honored traditions".
The brigade will not forbid soldiers from practicing these stunts in their spare time, according to Zhang.
Most soldiers agree with the decision to abolish the stunts. Zhao Yongheng, a fourth-grade sergeant major, said his personal experience is enough to justify the decision.
"I am good at using my head to smash bricks and breaking poles on my back," Zhao told PLA Daily. "But I had to spend a lot of time practicing these performances. Now I can concentrate on skills that will be badly needed during war."
The new measure has sparked debate among Internet users who follow the Chinese military, with many applauding the move as a new sign of the PLA's efforts to reduce "flashy showmanship".
"The military should have gotten rid of these stunts a long time ago. The warfare of the future will be a competition of technology, strategy and tactics rather than these stunts," a netizen named wildhoney wrote in a comment.
Another netizen, laohan, said President Xi Jinping, who is also commander-in-chief of the PLA, has brought "fresh air" to the military.
However, some suggested the brigade should consider resuming "the useful parts of these performances".
Cui Zhe, a military enthusiast in Beijing, said the unit should continue the stunts because "they are important to maintaining the tradition of our military".
He added: "Performing such stunts can inject a warrior spirit in young soldiers and display the strength of our servicemen to foreigners."
His words were echoed by benlailaoliu, a micro-blogger in Shanghai, who said many foreign militaries also perform stunts for visitors.
"Several stunts are composed of actions and maneuvers that can be used in fights, so they should remain."
zhaolei@chinadaily.com.cn