Tourists at a famous hutong, or alley in Beijing, must have gotten their money's worth.
The unexpected appearance of Chinese President Xi Jinping on Tuesday in Nanluogu Xiang sent excited visitors into a frenzy, who clustered around the leader and couldn't stop photographing him.
A Sina Weibo user posted multiple photos of Xi's entourage, making a splash in cyberspace.
People still remember Xi showing up at a dumpling store, with no notice, in Beijing on Dec 28, which turned the mediocre eatery into a popular tourist attraction.
Xi was in the alley with Guo Jinlong, Party chief of Beijing, and Mayor Wang Anshun.
Located to the north of the Forbidden City and the east of the axis of Beijing, the historic alley is flanked with craft stores, restaurants and cafes.
Sina Weibo, a micro-blogging site, was awash with comments. Here are some of them.
Chinese real estate tycoon Pan Shiyi asked whether he could take some photos of Xi if he rushed to the scene immediately. Another Weibo user gave him a clear-cut no.
President Xi comes to breathe the same air with us and we are on the same course toward the future! – By Beijing News
I have to offer a critical comment as Xi Dada (a nickname given by netizens meaning "uncle") is not wearing a mask (on this smoggy day). He apparently doesn't pay attention to his health. –By Jing yishan
We all wonder what President Xi would have for lunch. - By Zhishangjianzhu
The hutong, which already receives swarms of tourists every day, will get even more crowded as what happened to the dumpling eatery where Xi dined with other customers. Plus I was really impressed that President Xi was not wearing a mask like many others did on this smoggy day. –By Rei-nbow
Xi Dada, when will you come to Henan province? May I have your autograph? – by vrsnf from Central China's Henan province.
Related reading:

Video: Deep in the Hutongs

Where has President Xi's time gone?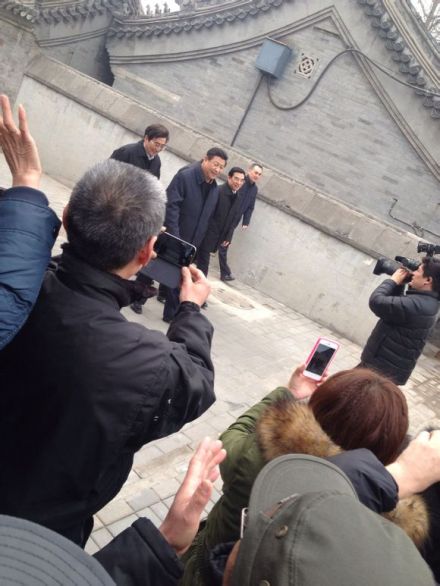 People try to take photos of President Xi Jinping when he showed up at Nanluogu Xiang, a popular tourist alley in Beijing, Feb 25, 2014. [Photo/from a Weibo user]