Sapidin Meturson's former home, built of mud and wood, collapsed when a magnitude-7.3 earthquake struck Yutian county in Xinjiang Uygur autonomous region's Hotan prefecture two days ago, but he and his family were unharmed.
The reason was that they had moved into an earthquake-resistant brick house, and the old one was only being used for storage, the herdsman said.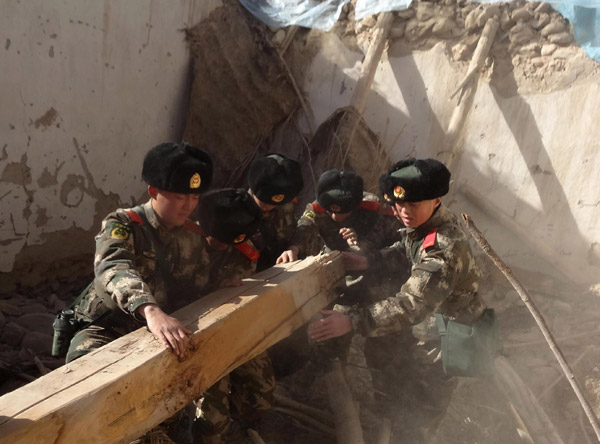 Soldiers clear the rubble of a house that collapsed on Wednesday in the magnitude-7.3 earthquake that hit Yutian county, Xinjiang Uygur autonomous region, on Thursday. ZHOU MI / FOR CHINA DAILY 
As one of the villages closest to the epicenter of the quake, Pishigai in Aqiang township, where Sapidin lives, was the hardest-hit area in Wednesday's event, which occurred at 5:19 pm.
Luckily, there were no casualties, though nine lambs were killed after a sheep pen collapsed.
As he recovered dried fruit and nuts from the remains of his old house, Sapidin said he didn't want to imagine the consequences if his family was still living in it, but he seemed grateful to be alive.
"I don't have much, and I want to give some walnuts to the rescue workers who came to help us," he said.
Xinjiang introduced the earthquake-resistant housing project, which aims to replace people's adobe houses with sturdy ones made of bricks and steel, in 2004 after a magnitude-6.8 earthquake in Bachu county, Kashgar prefecture, claimed 261 lives and destroyed more than 10,000 houses in February 2003.
Sapidin built his own earthquake-resistant house, which has two rooms and a kitchen, in 2012 with a subsidy of about 20,000 yuan ($3,300) from the government.
While the quake destroyed 23 homes made of mud and wood in this village of 183 households, the new houses all remained standing, albeit with some cracked walls.
On the other side of the village, about 20 soldiers were helping Sipremuhan Memetyimu clear away a collapsed sheep pen, which had at one time been the 64-year-old woman's house.
Her earthquake-resistant home was built seven years ago.
"The house was shaken badly when the earthquake occurred. I was so scared, but I decided to stay inside with my 90-year-old mother, who is paralyzed," Sipremuhan recalled.
"The (new) houses are much better," said Memet Balat, now living in a tent set up by a disaster relief team after his mud and wood house, built in 2005, sustained severe damage from the quake. The 68-year-old said he has decided to build an earthquake-resistant house this year.
"The old house fell into pieces when the earthquake happened. My wife and I were terrified and ran outside," he said.
In the first six years of the project, the government offered up to 5,000 yuan for every house with an anti-seismic design built by the farmers and herdsmen living in earthquake zones.
Since 2011, however, the subsidy has risen to 18,500 yuan because the standard size of an earthquake-resistant house has grown from about 50 square meters to 200 sq m in order to accommodate people's growing needs, said Ma Xiaojun, who is in charge of the project in Yutian.
He said the project's biggest obstacle is that most people can't afford to build a new home even with government assistance.
Contact the writers at gaobo@chinadaily.com.cn and cuijia@chinadaily.com.cn