BEIJING - Four Chinese regions reported a total of 10 human cases of H7N9 bird flu on Wednesday.
Health authorities in the southern province of Guangdong said four more human H7N9 infections were confirmed on Tuesday. Neighboring Guangxi Zhuang Autonomous Region and Fujian Province each confirmed one more case.
 Also popular: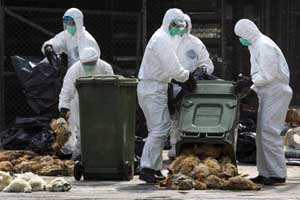 The eastern province of Zhejiang, the region hit hardest by the H7N9 virus, also confirmed four more human cases on Tuesday, the local health authority said in a statement on its website.
Out of the 10 patients, eight are in severe or critical condition. The remaining two cases, including a five-year-old girl, are in stable condition.
Chinese health authorities on Wednesday reassured the public that no proof has been found that the H7N9 virus is spreading from human to human.
Most human cases of H7N9 infection have been isolated so far, said a statement from the National Health and Family Planning Commission.
During the Spring Festival holidays, expert teams dispatched by the commission have been supervising local hospitals in Beijing, Shanghai Zhejiang, Fujian and Guangdong in diagnosing and treating H7N9 patients, the statement said.
Speical: Fighting Against H7N9 Bird Flu 
Health departments and hospitals in provinces with higher incidence of H7N9 are working hard to identify H7N9 cases as early as possible, it said.
The health authorities will strive to prevent cases of severe infection and reduce casualties, it added.