BEIJING - A girl in central China's Hunan Province was confirmed to have been infected with the H7N9 bird flu, the fourth case China reported on Sunday.
Local health authorities said the eight-year-old girl has previously been to a live poultry market and is the third H7N9 cases Hunan Province reported this year.
The girl is being treated in a local hospital and is in stable condition, authorities said.
 Also popular: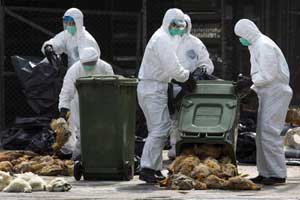 Of the three other cases reported Sunday, a 63-year-old man died of the disease on Saturday in Shenzhen of south China's Guangdong Province, a 37-year-old man from the city of Zhongshan is in critical condition and a 75-year-old man from the city of Liuzhou became the first human case of the bird flu in south China's Guangxi Zhuang Autonomous Region.
China has reported more than 100 human H7N9 cases this year, including over 20 deaths, with Zhejiang and Guangdong most affected.
Health authorities have strengthened H7N9 prevention and control measures including the closure of live poultry markets in some affected cities.