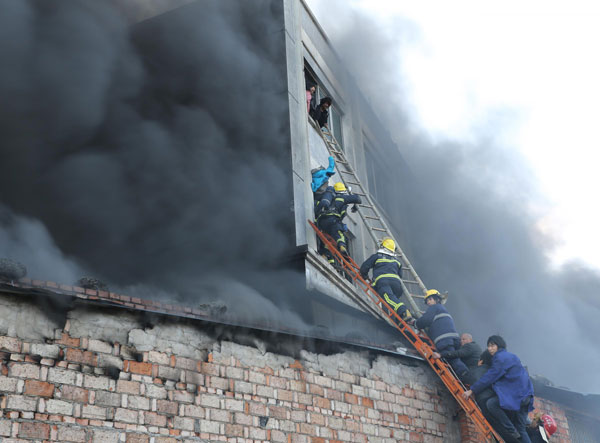 Firefighters work with local residents to rescue the workers trapped in a factory fire in Wenling city, East China's Zhejiang province, on Jan 14, 2014. [Photo/Xinhua]More photos
HANGZHOU - Two owners and one manager of a shoe factory in East China's Zhejiang province were detained Wednesday following a fire, which killed 16 and injured five others, police said.
Lin Jianfeng and Lin Zhenjian of Taizhou Dadong Shoes Co., Ltd. were taken into custody along with a member of staff surnamed Yu.
Fire broke out at 2:52 pm Tuesday at the factory in the northern part of Wenling City and consumed an area in excess of 800 square meters,before it was put out at 5:40 p.m. More than 20 people were rescued.
Verification of the victims' identities is still under way, according to the publicity department.
The cause of the fire is being investigated.